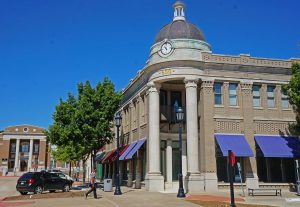 Four businesses have signed new leases and will be moving into Parker Square this spring, according to Bridge Realty of Texas.
Coming soon to Parker Square, a large shopping center on FM 1171 in Flower Mound, is a custom bakery called Hive Bakery, as well as a tutoring business called C2 Education and a home renovation business called Proper Home Improvement. The name of the fourth business was not released.
The Midwestern State University building will also be opening in April, according to Bridge Realty of Texas.
Those new businesses joined several other companies that moved into Parker Square in 2017, including Edison Coffee, Pokey O's ice cream, Bridgewater Homes, Adventure Kids Playcare, Allstate Insurance and Lonestar Fitness.
The five retail buildings of Parker Square are nearing 80 percent occupancy, according to the real estate company.