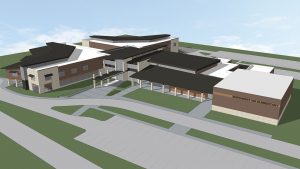 Northwest ISD students are helping the district and its architect partner with the design of the future elementary school in the Harvest neighborhood.
Students across the district, particularly at the elementary level, recently provided their ideas on what worked best in a school's design, according to a district news release.
Construction on the yet-to-be-named school, which will be located in the western side of the Harvest community, is expected to begin late this spring, and it is expected to open in 2019.
One of the participants in those feedback sessions, Justin Elementary School fourth-grader Zaida Ceballos, focused on school security in her design mockups. Zaida said the process was a positive learning experience and that she's eager to see a school using the design in person.
"I had many good ideas," she said, "but I chose this idea [of focusing on school security] because it is important to me to have something to keep students safe."
In all, 137 students, 50 educators and 12 district design team members provided some form of input for the new elementary design, according to the school district. Additionally, 17 meetings were conducted, several tours of modern elementary schools were taken and many students were interviewed either in one-on-one sessions or as part of "school of the future" project presentations. Some examples of student feedback used in the design include flexible seating, the library's features and location, and collaboration space sizes.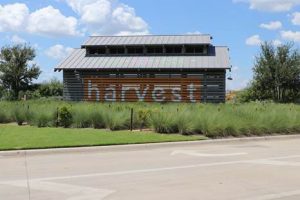 Northwest ISD's facilities team and Huckabee's architects merged students' input with the district's long-term goals, creating a unique school design that celebrates students working together.
"When we built Eaton High School, we focused on collaboration spaces – areas outside of classrooms where students can work together in different environments – and we brought a lot of that to Adams Middle School," said Tim McClure, assistant superintendent for facilities, at a community meeting revealing the design. "Having those areas at the secondary level, we felt it was important going forward to prepare our elementary students for that, so they can gain growth and maturity from collaboration."
Several collaboration spaces will be spread throughout grade-level halls of schools using the new design, and other aspects of the schools will similarly prioritize collaboration. The learning commons and library area, for instance, will have built-in Makerspace areas, where students can physically create and work on projects. The learning commons will also have other dedicated spaces for student collaboration, similar to many collegiate libraries.
Even the fact that the design is two stories factors into the community, collaborative style of the school. The fine arts stage in the cafeteria area can be seen from a second-story balcony that provides more vantage points for family members watching performances. Some staircases themselves are also designed for collaboration, with a "learning stair" concept used to provide more spaces for students to work together.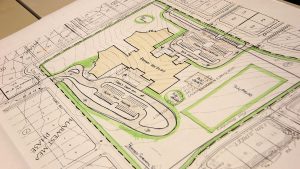 "Our desire was for the learning commons, located near the center of the design, to be the true heart of the school," Mr. McClure explained. "It's a hub that anchors everything together. It's an area that's open and welcoming, and a lot of the school's design feeds off that, with room for community events so families feel at home here."
Because the new elementary school design is what's known as a "prototype" – meaning multiple schools share the same general layout, with some possible tweaks based on each campus location – several growing communities within Northwest ISD will have schools with the design. The new prototype design will first be used at the Harvest school. After a design process that included several months of feedback and many more months of planning, that elementary will begin construction in the coming months, with an anticipated opening in 2019.
While not all of the student feedback was used – the school won't have waterslides, for instance – it did guide how architects considered student use of schools that will use the prototype design.