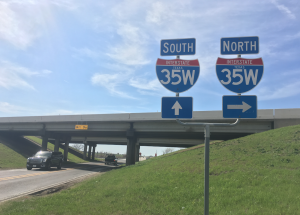 The Texas Department of Transportation will hold a public meeting next month to discuss the proposed widening of Interstate 35W from the Denton/Tarrant County line to the I-35 junction in Denton.
The proposed project would widen I-35W mainlanes from four to six lanes, add four-lane frontage roads with auxiliary lanes from Dale Earnhardt Way to the I-35 junction and upgrade street intersections, which may require grade separation, according to a news release. The project would be done in phases, beginning with frontage road improvements.
TxDOT will hold the meeting from 6-8 p.m. on April 19 at Argyle Middle School, 6601 Canyon Falls Drive. TxDOT representatives and project consultants will discuss the project, answer questions and take feedback from  residents.
If you can't attend the meeting, written comments will be accepted until May 4 via email at [email protected], or by mail to Nelson Underwood, P.E., TxDOT Project Manager, 4777 E. Highway 80, Mesquite, TX 75150.
Residents who require special communication or accommodation needs are encouraged to contact the TxDOT Dallas District Public Information Office at 214-320-4480 at least two working days prior to the public meeting.