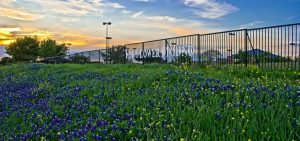 The community is invited to celebrate Easter Sunday at the 45th Easter Sunrise Service on The Flower Mound.
The first such service was held in 1974 and quickly became a Flower Mound tradition.
Three local civic organizations — The Summit Club, The Women of Flower Mound and The Mound Foundation — have carried the tradition through today, and they are planning this year's Easter Sunrise Service on April 1.
Creekwood Christian Church will preside over the service, which will start about 6:45 a.m. and end about 7:15 with a dramatic sunrise, according to a news release.
The Flower Mound is located near the intersection of FM 3040 and FM 2499. Parking will be in the Tom Thumb and neighboring parking lots. It's recommended to arrive no later than 6:30 a.m. because of the short walk up to the Mound.
Organizers "strongly recommend comfortable clothing over your Sunday best," the news release said. Light refreshments and coffee will be provided by local merchants and will be available after the services. If there is inclement weather, the service will be canceled.