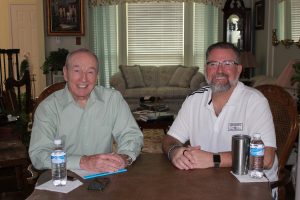 As we inch our way toward the May 5th local election, I'll be striving to interview as many candidates as possible in order to give residents some reasons for the choices they make when they go to the polls. When voters get literature in the mail, or see numerous campaign signs on lawns throughout the area, they're not likely to learn very much about those who ask for their votes. For the most part, they're getting a subjective description, usually written by the candidates themselves. The most important value of the signs, as far as influencing voters, comes from the name recognition factor.
A video interview puts a face to the prospective community leaders and allows residents to see how they handle questions on significant subjects. Body language is known as non-verbal communication which gives the observer another view of a person's intentions. My wife and I always begin by attempting to make the guest comfortable in case they have any trepidation about the taping session. Our job is to help the candidates to look their best as they handle the inquiry and reveal their reasons for wanting to serve.
Don McDaniel is a sixth generation Texan, having been born in Austin in 1968, and has lived here all his life, with brief business stints in California and Kansas. Don and his wife Amy have been married for 21 years and lived in Flower Mound for almost 18 years. The couple has two kids, Allison (18) and Gavin (16). Don was first elected to a two-year term in 2016 and is currently running for a three-year term as a result of term-length changes made by the Council.
There's much more to learn about him by watching the video interview in which he talks about his reasons for running, how he feels about the town's residential and commercial growth, and what his vision is for Flower Mound's future. Don doesn't have a campaign website, but more info can be learned from his Facebook page: www.facebook.com/McDanielForTownCouncil.