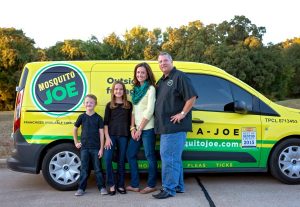 It's been one year since Lee and Hollie Woodham moved their Mosquito Joe pest control business from their Highland Village home to an office in Argyle.
The soon-to-be expanded 3,000-square-foot facility not only has allowed them to greet customers somewhere other than their dining room table, it's also provided plenty of space to park their yellow and green trucks; plus, store all their equipment required to stop mosquitos in their tracks.
Mosquito Joe offers mosquito barrier treatments that protect a yard from unwanted pests, including mosquitoes, fleas and ticks. It offers synthetic and all-natural products to provide greater choices to its customers. The synthetic products are forms of pyrethrins, known as pyrethroids, derived from the extract of chrysanthemum flowers.
"It's similar to what you'd find in over-the-counter flea and tick shampoos and lice shampoos for children," said Woodham.
Mosquito Joe now is offering automatic mosquito misting systems individually designed to each property. The systems automatically send measured sprays through nozzles installed throughout the backyard, under eaves and in landscaping.
The Woodham's franchise now serves five territories, ranging from Gainesville to north Fort Worth, plus Westlake, Northlake, Justin and Robson Ranch to the west and Little Elm and The Colony to the east.
"We don't have contracts; and, in our market, that's huge," Woodham said. "Without contracts, guess what? You have to perform and provide outstanding customer service for those clients to keep coming back."
Service is tailored to each property and all technicians are licensed and certified.
Mosquito Joe is a family-owned business with a continued commitment to customer service that Woodham believes is what makes Mosquito Joe special.
"There are a lot of other mosquito companies that use the same basic stuff," he said. "I think what sets us apart is our customer focus. It's our professionalism. It's having the corporate (healthcare) backgrounds that we have that help us bring a little different level to what we do.
"We always get compliments on our customer service, how well-trained our technicians are and how professional they act. When you call into our office you are not going to a call center. You are going directly to our office staff that is an extension of our family."