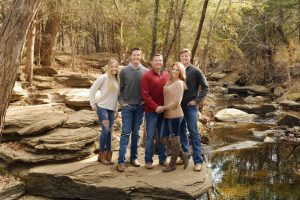 Drive by or stop in the building on Colorado Boulevard across from Denton's Golden Triangle Mall and it will be obvious something has changed.
From the new signs out front, to enhanced sections inside, what formerly was known as Carpets Plus of Denton, became The Design House on Feb. 1. The new name best-captures what owners and Argyle residents Ty and Jennifer Homeyer have done for years – provide a one-stop shop for home renovation projects.
"I like the name Design House, because I feel that's what we really do," said Jennifer, who has owned the business with her husband since 2008. "The old name just doesn't serve us like the new name does. It's more all-encompassing and says we can do any project A to Z. If you just want to come here and buy your products you can do that, or we can do all of it for you. To me, The Design House has no limitations and it better defines us."
The Design House helps everyone, from do-it-yourself homeowners seeking design ideas and materials, to house-flippers and custom homebuilders, plus everyone in between. With six designers on its growing staff, The Design House has products and services to meet any need and budget.
The showroom features 10,000-square-feet of every product that can be put on walls, floors, fixtures, plus everything else, including plumbing and lighting products previously sold through outside vendors.
To streamline the shopping experience, the Homeyers are in the process of completing a designated area at the front of the store where vendors can more easily display specific options for tile, granite, quartz, carpet, vinyl and wood. It includes products from the couple's other business, Stonemeyer Granite that opened in 2012, to provide even more options for current and future customers.
"We want to thank our patrons for trusting us and continuing to allow us to serve them throughout the years," Jennifer said.