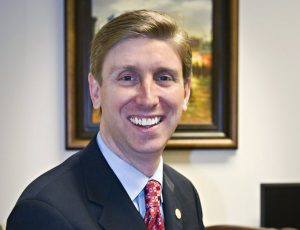 Growing up in North Texas, I have great memories of the impression first responders played in my life.  My friends and I roamed the neighborhood playing cops and robbers always battling to be on the side of the good guys.  Every career day, Halloween or other dress up occasions, there was always a parade of beaming kids in police uniforms. Anytime an actual police officer visited the school or a community safety event, there was a line of enthusiastic children attentively absorbing every word the officer said.
Today, however a very dangerous shift against our brave law enforcement is occurring, and we have to take notice and restore their proper place of honor in our society.  Violence against anyone is abhorrent and as a lawmaker, father, and American, I believe we have to recognize this shift in culture and prepare to act to stop it.
Just recently, we saw the tragic death of Richardson Police Officer, David Sherrard, who was slain in the line of duty.  He leaves behind a wife and two daughters.  This year, 16 officers have been killed in the line of duty nationwide, and 2016 marked the deadliest time in at least 5 years. It was that year when one man fired on Dallas police officers, injuring nine and killing six in a hate crime that marked July 7th as the second deadliest day for law enforcement since September 11, 2001.
While sadly there are far too many stories to include, I want to shed some light on several bills passed during the 85th Legislative Session to support our police officers, an initiative more commonly referred to as "Back the Blue".  First, no amount of legislation can ever replace the public servants that lay down their lives for the safety of our communities, but my hope is that the impact of these bills will ease the burden shouldered by surviving family members, lessen the vulnerability of law enforcement officials, and discourage other people from committing these heinous crimes.
In 2017, lawmakers passed Senate Bill 15 that amends the Tax Code to exempt the surviving spouse of a first responder who is killed or fatally injured in the line of duty from taxation of the total appraised value of the surviving spouse's residence homestead. This bill was passed by both chambers of the Texas Legislature, and then voted on and passed by the citizens of Texas in the constitutional amendment election that was held last November.
Another bill passed to "Back the Blue" created a $25 million grant program to assist law enforcement agencies with the purchase of bulletproof vests and body armor for 50,000 officers across Texas. Although police officers have long been outfitted with bulletproof vests, not all vests are created to withstand the power of high caliber weapons like a rifle, which is what the individual who ambushed the Dallas officers used. The more substantial vests pose a greater cost financially and have an expiration date of about five years, but there is no price too high to protect our brave men and women who put their lives on the line everyday to serve us.
House Bill 2908 increases the criminal offense committed against a peace officer or judge when the act is executed due to bias or prejudice associated with their position. Under this legislation, several measures are enacted. First, terroristic threats made against a police officer or a judge that cause fear of imminent bodily injury is a state felony punishable by up to two years in jail. Next, the unlawful restraint or assault of a police officer or judge is a second-degree felony with a maximum sentence of 20 years in prison. Finally, a first-degree felony is committed if an offense results in serious bodily injury against a police officer or judge, while the officer or judge was in the discharge of an official duty, and is punishable by life in prison.
Absolutely no amount of legislation can ever bring back the lives that Texas has lost in the service and protection of our communities.  Yet through the passage and enactment of the "Back the Blue" legislation, it is hopeful state government can clearly convey crimes against law enforcement will not be tolerated, and Texas is prepared to stand behind those who bravely sacrifice for us.
It is an honor to serve you in the Texas House of Representatives, and I welcome your feedback especially about how we stop the culture of violence and restore value for all human life. Always feel free to contact my Capitol office at 512.463.0688 or email [email protected]. And please, when you see a first responder, thank them for their service!