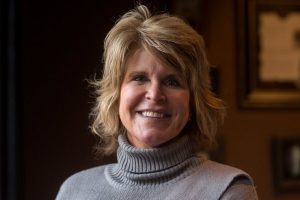 Kim Cloud of Lantana admits giving back to the communities she served through her longtime area beauty business was not at the top of her mind many years ago.
"I was benefiting from the community, but I wasn't doing anything to give back to it," said Cloud, who opened Cloud 9 Hair Design in Lewisville in 1992, moved to Highland Village in 2000, then to her current location in Flower Mound in 2005.
"Then, I started going to chamber of commerce meetings and met Sandy Thermen (former director) of PediPlace," said Cloud. "She took me under her wing and became a mentor to me about how important it was to give back. Once I had done it, it became an addiction."
It also became an official offshoot of her salon called Cloud 9 Charities. The nonprofit's first event in 2004 was a Kids' Cuts Day helping Kidd's Kids, a charity started by the late radio personality Kidd Craddock.
"That gave us a little taste of that to make a difference, it makes a difference in your business," she said.
Soon thereafter, Cloud 9 Charities introduced a fashion show that lasted several years and an art gala event that ran three years.
Then five years ago, Cloud and her 18-person board of directors, consisting of area businesspeople, developed the Best Little Brewfest in Texas. After conducting the initial event at Texas Motor Speedway, it moved to Old Town Lewisville and now features 260 volunteers and 3,000 to 4,000 attendees.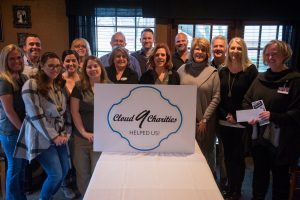 This year Cloud 9 Charities will again conduct two major fundraising events, but on different dates than in the past.
The Giving and Golf Tournament, previously held in October, will take place April 2 at Lantana Golf Club, while the Best Little Brew Fest in Texas moves from June to Oct. 20.
That hard work and planning has resulted in raising about $2.5 million overall. While the golf tournament typically nets $30,000 to $35,000, BrewFest has raised $70,000 to $100,000 annually.
Numbers like that have helped Cloud 9 Charities launch Bedtime Rescue, which annually provides 100 families with temporary housing at motels in Lewisville, Denton and Sanger.
"My philosophy is if you don't have $30,000 or more to give back, why do it," she said. "It takes a lot of time and hard work planning."
The list of additional benefactors is extensive. It includes worthy organizations like: Children's Advocacy Center of Denton County (CACDC); Denton County MHMR Center; Metropolitan Meals on Wheels; Community Christian Action (CCA); The WARM Place; Court Appointed Special Advocates (CASA) of Denton, Rachael's Challenge; Lewisville ISD's Community in Schools and Project Search; Special Abilities of North Texas; PediPlace; Alzheimer's Association; Hedrick Middle School; Journey to Dream; Sue Weaver CAUSE; The Oasis; Touched by Suicide; Kyle's Place; Ally's Wish; Food for the Soul; and, most recently, the Shaken Baby Alliance.
Every charity supported by Cloud 9 holds a special place in Kim Cloud's heart. Her affinity to the Children's Advocacy Center is borne out of her own experience being sexually abused as a child. CASA represented Cloud's daughter during her adoption.
Besides the two major annual events, Cloud 9 Charities receives donations from other businesses, organizations and events.
Cloud said about half of the available player spots and a couple of sponsorships remain for the golf outing, which includes breakfast, lunch and prizes. They can be secured on the Cloud 9 Charities website and Facebook page to help further Cloud 9 Charities' mission.
The Garland native and mother of three grown children still cuts and styles hair every day at Cloud 9 Salon & Spa. But her passion is Cloud 9 Charities.
"We raise money to help families and individuals that need help," she said. "It's that simple."