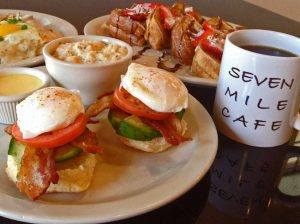 The Highland Village location is the second here in DFW. Owners Kevin and Josi Klingele created the original location in Denton in 2011 after realizing they wanted to create a place where they could enhance the community's dining landscape by offering their own unique take on breakfast foods, delicious coffee options and (of course) their top-of-the-line service. And then about four years ago, they opened the doors of their Highland Village location and have been satisfying the breakfast and lunch needs of our local community ever since!
When we visited Seven Mile this week, Kevin showed us two of their most popular breakfast dishes – the Eggs Benedict Sampler and their Pancake Sampler.
My Eggs Benedict Sampler included The Original Benny and The California Benny made with bacon, avocado and grilled tomatoes. You guys should know how I feel about Eggs Benedict by now and I absolutely love the ones at Seven Mile Cafe. I'm always a fan of the classic, but their California version is an awesome twist!
And our (Texas-sized) Pancake Sampler included one House Pancake, a Cinnamon Roll Pancake (topped with cinnamon, pecans and a sweet cream cheese glaze), and a Berry Bliss Pancake drizzled with their sweet cream cheese glaze and topped with blackberry coulis, fresh blueberries and strawberries, and a vanilla anglaise. Kevin's favorite is the Berry Bliss and after tasting it, I can see why!
While those are two of their more popular menu items, Seven Mile offers around 50 to 60 menu items, so it's not hard to find something that appeals to you on their menu! Whether you want to indulge in one of their Texas-sized pancakes, or you're looking for gluten-free or vegan-friendly options – Seven Mile has something for everyone!
If you're a coffee connoisseur, you'll geek out over their huge coffee bar. They take their coffee very seriously. In fact, Seven Mile Cafe partners with Stumptown Coffee out of Portland, Oregon to ship in their incredibly fresh coffee. After all, you can't have great breakfast foods without amazing coffee to go with it, right?
They also just partnered with the app, No Wait, which allows you to check the live wait time from your phone and reserve a spot on the wait list so by the time you get there, you can walk right up to your table. How amazing is that?
Kevin invites anyone who hasn't been to Seven Mile Cafe before to come join them. You'll love their scratch-made dishes, their incredible service, and the entire dining experience. Can't wait for you guys to try them out!
*Seven Mile Cafe is located at 2300 Highland Village Rd #1100, Highland Village TX 75077. For information about their other two location and to view their full menu, click here to visit their website.