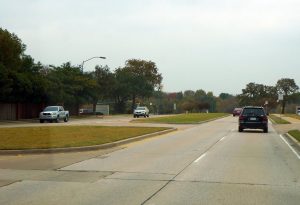 By Lyn Pry, Editor
In addition to its unanimous approval of the Flower Mound Heritage Park Phase 4 project, the Town Council agreed with the Transportation Commission's unanimous vote on Feb. 13 to lower the speed limit from 40- to 35-miles-per-hour on the curved-section of Morriss Road.
The speed reduction is between Lake Bluff up to just south of FM 1171 (Cross Timbers Road).
Safety concerns related to this section of Morriss Road include not only the curves, but lanes measuring only 11-feet wide– rather than the standard 12-feet– fronting Forestwood Middle School.
The vote was 3-to-2, with Mayor Pro Tem Don McDaniel and councilman Jason Webb voting against the change.
The speed limit change is the first of yet-to-be-determined changes for Morriss Road. The Town Council and Transportation Commission have scheduled a joint meeting, including a section for public participation, for March 27 to formalize specific issues to address.
Council did, however, unanimously approve the Master Plan for the Gibson-Grant Log Cabin at the Long Prairie Homestead location which is at the intersection of Flower Mound Road and Quail Run.
Representatives from the firm of Quimby McCoy Preservation Architecture of Dallas presented a plan for the project and an overview of the 182-year-old log house.
Council members were squeamish about the financial figures associated with the project details: $782,000 for Phase 1; and, $700,000 for Phase 2.
Deputy Mayor Pro Tem Kevin Bryant pointed out that the issue being considered was an approved Master Plan, not the details associated with the project.
"I'm hearing they need to approve the concept so they can ask for financial support," he said.
Denton County Museums Director Peggy Riddle was in attendance and helped reassure the council that the town would be assisted by the county in the project.
"We will be collecting furnishings and even reproducing wallpaper for historical significance," she said, adding that– with council's approval of the concept– the group will be able to help explore possible grants and financial contributions.