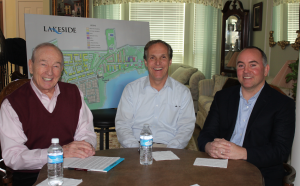 Many new and exciting developments have been introduced to the Flower Mound community in the past few years. One of them, the Lakeside DFW community of businesses, residences and entertainment attractions has been a magnet for area residents who want to shop, dine, watch a movie, or avail themselves of the other amenities accessible in that emerging sweet spot just a few minutes from DFW Airport.
The latest addition to the 150-acre expanding attraction is a 35-acre slice on the southern end of the property. It is known as Lakeside Village and will feature many new restaurants, residences and retail shops.
In order to give the residents of Flower Mound and its environs more information on this continuing work of art in progress, I invited Richard Myers, founder of Realty Capital and Jimmie Archie, its managing director, to answer some questions in a video interview, which accompanies this article. For more info and videos of the new project, please click on the webpage: www.lakesidedfw.com.
Bob Weir is a former NYPD officer, long-time Flower Mound resident and former local newspaper editor.