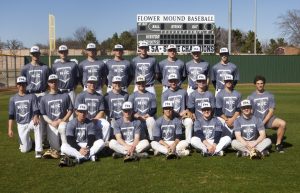 The hope for any high school baseball team in Texas is still to be playing in June.
As the season gets underway for the schools of southern Denton County, hopes are high that 2018 could mean just that for multiple teams.
Every program in the region earned a playoff berth in 2016-17 and, based on the amount of returning talent, things should not be much different this season.
The Flower Mound Jaguars wrapped up last year with a second-place finish in UIL District 5-6A competition and defeated McKinney and San Angelo Central in the bi-district and area round, respectively.
Coach Danny Wallace said things are shaping up well for 2018. He points to the chemistry he sees developing between his players.
"We are excited about our team heading into the season," Wallace said. "We have a good mix of returning players and kids coming up from the JV. The preseason workouts have gone well and we are ready to get started."
Flower Mound finished 28-11 last season, with a 9-5 mark in district competition and advanced three rounds in the playoffs.
Players to watch this season include pitchers Caleb Burgess and Grant Georges, shortstop Carson Bradley and pitcher/outfielder Austin Wallace.
The coach added that to have a successful season will take a couple of things.
"We have to stay healthy, pitch well and play good defense; and, of course, play in the postseason," Wallace said.
Across town at Marcus High School, the Marauders finished third in UIL District 5-6A competition and advanced all the way to the regional semifinals before coming up short in a three-game series against Arlington Martin.
The Marauders defeated Denton Guyer, South Grand Prairie and Flower Mound to reach the fourth round of the postseason in 2017.
Players to watch for Marcus this year include catcher Mitchell Dickson, third baseman/pitcher Blake Mayfield and outfielder Blake Covin.
For the Guyer baseball team, the 2018 campaign is extremely promising, because the Wildcats return seven starters from a team that finished 20-15 last season and took second place in the district 6-6A standings last year.
Coach Patrick Watson said he is feeling very confident in his team's chances. He predicted this year it will come down to the Wildcats and one other team vying for the district title.
"We return our whole infield, except for our third basemen, two starting pitchers and one outfielder," Watson said. "We have good depth at all positions this year. I think we can compete for the district 6-6A championship. Plano is the team to beat this year, because they return a majority of their players as well."
The Wildcats have a number of strong returning players, including shortstop Morgan Allen (St. Edwards University), second baseman Wyatt Gaines, outfielder Garett Ozmer, first baseman/catcher/designated hitter Jordan Beminio, catcher Luke Piper, pitcher Cade Branum and pitcher/first baseman JT Thompson (Oberlin College).
Watson led the Wildcats to a 10-4 district mark and bi-district appearance in his first year as head coach last year. To have a successful 2018 campaign, Watson said it will take one key piece to the puzzle.
"Our defense should be good and our pitching staff has better depth," Watson said. "We just need to find some guys to be able to close baseball games out. If our hitting comes around, we should be very competitive this year."
In Argyle, the Eagles reached the regional semifinals last season after winning a district championship and defeating Dallas Roosevelt, Princeton and Bonham in the playoffs.
Coach Ricky Griffin is a man of few words when it comes to discussing the prospects for his team, but is optimistic about Argyle's chances in 2018.
"Should be a strong year," Griffin said.
Pitchers Bryson Hudgens and Sean Bolin and infielder Chad Ricker are among the stronger returning Eagles players. While Griffin said he is not happy with how things ended last season, this year should be successful if the Eagles "play to our ability."
Argyle finished last season with a record of 26-3.
Further down the road at Liberty Christian, the Warriors are coming off of a playoff season in 2017, but coach Johnny Isom said there are some issues that must be addressed this season to repeat on the success it enjoyed last year.
"Despite having very few returning varsity starters, I feel like we have the pieces to have a really competitive team this year," Isom said. "The pitching staff is untested, but seems to be the strength of the team. Defensively we should be very sound. Offensively is the area with the biggest question marks."
Liberty Christian finished 8-6 in district competition and reached the playoffs in 2017. The team has a few returning players including Kason Howell (Auburn), Corey McMann, Joe Wolf, Landon Munday and Dawson Barr (TCU).
Isom said for his team to do well this season it will simply need to do what it has done in year's past.
"I think the formula is the same every season, but we will need some breaks along the way," Isom said. "We will need to stay healthy, play well defensively and throw strikes on the mound. Most importantly, we must come together as a team and love each other."