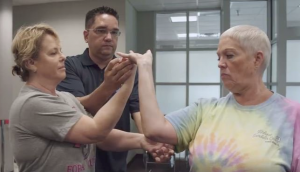 The Flower Mound Police Department's popular free self-defense course for women filled up in less than 24 hours.
The town announced in a news release late Tuesday afternoon that registration was open for FMPD's Sexual Harassment and Rape Prevention self-defense course on April 7.
Kaylin Clement, the town's communications specialist, said Wednesday afternoon that the popular SHARP class had been filled.
While there is no confirmed date yet, the department aims to offer the class at least four times a year, so there will likely be another SHARP class in the summer.
SHARP training is founded on statistic-based research and focuses on what is real and what works, according to the town news release. SHARP material is kept simple so it is easy to learn, retain and use. Focus is placed on identifying threatening behaviors and avoiding them while providing physical skills in case avoidance fails.