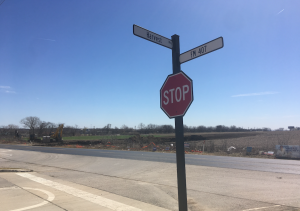 A traffic light will soon be constructed at the intersection of Harvest Way and FM 407.
The intersection currently is the four-lane divided street of Harvest Way — a main road in the Harvest neighborhood — butting up to the two-lane FM 407 highway.
Many residents wanted a traffic light to be installed because of safety concerns, said Northlake Mayor Pete Dewing, and after several months of talk between representatives of Harvest and the Texas Department of Transportation, he got involved late last year to help speed up the process.
Dewing said he got the call from TxDOT last week that the traffic light had been approved. He estimated it would take two or three weeks to get the parts to come in, and that the light should be up and running sometime in April.