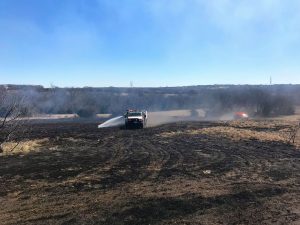 Firefighters extinguished a 5-acre grass fire Wednesday morning in west Flower Mound, in almost the same location of a much larger grass fire in January that took much longer to douse.
The fire was called in about 10:20 a.m., said Brandon Barth, a Flower Mound Fire Department spokesman, after a controlled burn of brush piles got out of containment just off Smoot Road, northeast of the intersection of FM 1171 and Hwy 377.
Barth said firefighters from Flower Mound, Argyle, Denton, Justin and Roanoke responded and were able to get the fire under control in about 30 minutes. Firefighters remained on scene to mop up and monitor hot spots. No structures were involved and no injuries were reported.