Flower Mound firefighters and many others from across North Texas contained a large grass fire in west Flower Mound on Monday.
The fire was called in about 10:30 a.m. in the northeast corner of FM 1171 and Highway 377, according to Flower Mound Fire Department spokesman Brandon Barth. Winds and dry conditions allowed the fire to spread west, toward the more populated part of the town.
Barth said that the fire reached at least 200 acres in size before firefighters could fully contain it late Monday afternoon. Firefighters were still working Monday evening to fully extinguish it and douse hot spots.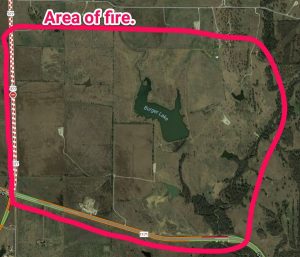 No homes were threatened, and firefighters from several nearby cities and counties assisted Flower Mound. No injuries were reported.
Hwy 377 and FM 1171 were both closed down for much of the day, but were re-opened by early evening.
The cause of the fire was unknown as of Monday afternoon.