The Flower Mound Town Council meeting on Monday night saved the best agenda item for last– the final phase of Heritage Park.
Parks and Recreation Director Chuck Jennings presented details for the Phase 4 project, which include: a trellis shade structure; five wildflower-mix seeding stations, which will bloom at different times; a nature observation platform; a sundial entry circle with an entry sign; a Wildlife Encounter area; and, an 18-basket Disc Golf Course with a map, trash receptacles and benches, as well as three culvert crossings and a low-water crossing along the trail.
The approved bid for the project is $1.5 million– including a base bid of $1.3 million and selected bid options of $187,835– was awarded to North Rock Construction, LLC.
Construction is set to begin in April with an expected eight-month completion in November.
The 18-basket disc golf course– with the option to play only nine-holes– was designed by Professional Disc Golf Association (PDGA) champion Eric McCabe of Emporia, Kansas-based Dynamic Discs.
The course begins on the west side of Heritage Park and continues east and north to The Hound Mound dog park, then winds north through the approximately 50-acre Phase 4 territory of the total 81.9-acre Heritage Park.
"He [McCabe] was really excited about what he had to work with– the terrain and the topography," said Jennings. "There will be a narrow fairway with the trees and lots of distance to work with. So, this is going to be a very challenging course and will probably rank as an advanced level."
He added that the town will try to attract leagues and tournaments for the course.
"Folks have been waiting and waiting," Jennings said. "And we're ready."
As validation of his statement, Deputy Town Manager/CFO Debra Wallace said her husband is a PDGA member and she is also a disc golfer.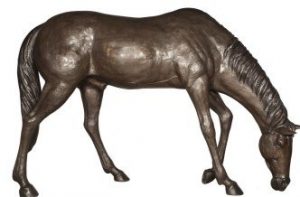 For the Wildlife Encounter section, funding in the amount of $125,000 has been set aside to purchase 12 life-size bronze animal sculptures. The area features more than a mile [6,200-feet] of concrete eight-foot trail, with embedded animal footprints of native animals, leading to the 12 statues.
The town's Cultural Arts Commission (CAC) was asked to recommend the choice of animals and a process for obtaining the sculptures.
After consulting with LISD's environmental educators and students from its Outdoor Learning Area (LISDOLA), the chosen indigenous animals are: armadillo; beaver; bison; blue heron, to be installed in a pond; bobcat; coyote; eastern cottontail rabbit; horse; opossum; a red or gray fox; wild turkey; and Whitetail deer with antlers.
Jennings said that local artist Sweety Bowman will create the armadillo, bobcat and coyote and that all the statues will be specially treated against vandalism.
Additional quotes have been requested from companies that produce custom and pre-made bronze sculptures to supply the remaining animals and installation is expected by the end of summer.
"Gary [Sims, executive director of Community Services] and I have been looking forward to finishing this project since it started eight-years-ago in 2011 with Phase 1," said Jennings at the start of his presentation.
The Phase 1 amenities included a pavilion; restrooms; Fort Wildflower Playground; an entry monument; amphitheater pad; and, major parking lot space of approximately 15-acres.
Phase 2 was divided into two phases: A– included the Hound Mound dog park and related features with approximately 10-acres total amenities; and, B– the pond and boardwalk up front, a waterfall, 11-picnic stations and related parking for approximately five-acres.
Jennings added that Phase 3 with its splash pad, dry creek bed, bio-swales and shade structures is almost complete. A Phase 3 grand opening is set for Sunday, April 29.
As he continued through the Phase 4 amenities, Jennings enthusiasm for the features was apparent.
"From recreational, educational, cultural and performance arts, fishing, family picnicking and hiking, plus an 18-hole disc golf course … there's something for everyone [in Heritage Park]," said Jennings. "People can just enjoy being outdoors; bring a book and sit under the trees. Even when it's hot, with all the shaded areas, it's about 15-degrees cooler there."
Following the council's unanimous approval for the bid award, a high-five run-by between him and council members would not have been a surprise.