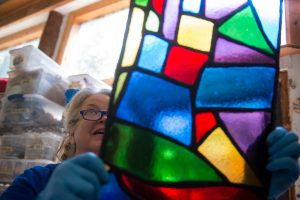 A front yard memorial to a tornado that touched down in Grapevine?
Those who know Karmien "Sweety" Bowman of Flower Mound– an Associate Professor of Art Ceramics (plus Sculpture Design, Art Metals and Art Appreciation) at Tarrant County College– were unfazed by the artistic homage.
She stabilized an eight-foot stack of dried grapevine wreaths to create the unmistakable depiction of a whirlwind ripping across the meadow in front of her studio at the end of Rocky Point Road.  How's that for original?
In 2015, the whimsical creation was exhibited at the Gaylord Texan Hotel's Texas OZ Event.  The work's title? The Grapevine Tornado. But, of course!
Though her nearly 40-year professional art career started as a painter and jewelry maker, Bowman's mature creative passion is sculpting in clay and bronze. However, she doesn't have a problem with grapevines.
"I've been making art all my life and the medium has to suit the idea," she said.
Born and reared in the Oak Cliff area of Dallas, she graduated from the University of Texas at Austin in 1969, with a B.F.A. (Bachelor of Fine Arts) in Painting and Art History. She then went off to New York City, "Because back then, that's what young artists did." And if you must know, she did attend the famous concert at Woodstock, New York.
She lived for a year in a former residence of psychoanalyst Wilhelm Reich, whose claim to fame was two kooky inventions called the Orgone Accumulator Box and the Cloudbuster.
On the side, she produced jewelry, painted on Plexiglas and worked as a lab tech at a commercial pottery business.
After a year of Big Apple excitement, she returned to Dallas– opened the Yarmouth Studio on Yarmouth Street, where she grew up– and worked as a public relations assistant at Channel 13.
Her interest in clay and moldable media bloomed into a Master's Degree in ceramics, metals and sculpture from Texas Woman's University in Denton in 1975.
The stereotypical life of the disorganized "starving artist" never figured in Bowman's professional aspirations. Among other things, she armed herself with a Texas All-Level Teaching Certificate, Then, over the years, she: taught middle school art; was a university-level art teaching assistant; a CETA Project Director with the City of Dallas; Artist-in-Residence in Dallas; Artist in Schools in Tyler; and, Visiting Artist at Irving and Flower Mound high schools.
Somewhere in there– 34-years-ago to be exact– friends insisted she meet a young artist accomplished in the restoration and conservation of museum-quality fine antique furniture. To be polite she went to the friends' dinner party.
"I wasn't interested in redheads," she said of her now husband, Alton Bowman, who these days has wavy white hair. "I was a single mother with other things on my mind besides remarriage."
Not easily discouraged and very clever, he refused to just go away.
Upon discovering the lady artist heated with a wood stove, he had a cord of split-wood delivered to her house, instead of a bouquet of flowers. To her annoyance, her young daughter prophetically wondered if this man might be her new daddy.
"Alton and I have been on the longest date in recorded history," she said.
The gallery at Yarmouth Studio features several of Alton's original and exquisite furniture creations, including a French Writing Desk inlaid with rare ivory from a wooly mammoth tusk which, incidentally, is no longer available to acquire. He mostly works for private collectors and museums, but for a "Wow!" moment go see the furniture on display. This is not just a guy with a hobby woodshop. But back to Sweety.
Of course, all this only scratches the surface of her high energy life. While being party to the world's longest date she has presented an array of programs for many Texas school districts and a wide range of professional conferences.
Potters come from near and far to take her workshops with names like Extrudaganza and Stone Soup. Her work competes in numerous shows and exhibitions and she has traveled and studied in ceramic and glazing studios as far away as Hungary, Austria, and British Columbia.
The "selected" list of her Professional Awards and Exhibits has 75 entries and her professional contacts make up a Who's Who of the pottery and sculpting world. And, if we aren't out of breath yet, in addition to 12 published professional articles, she's writing a biography of her mentor and friend, Ishmael Soto. Soto died a couple of years ago after an illustrious ceramics career that included being the first Latino on the Art faculty at the University of Texas in Austin. He groomed a generation of renowned ceramicists.
Among other practical works of art– like one-of-a-kind tea sets and porcelain dishes– Bowman personally produces the Texas Bluebonnet Brew-Off Award beer steins every year. The contest is open to home breweries and the hard-to-win collectible steins are different every year.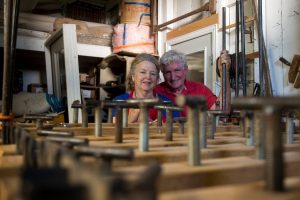 Her production studio is a large airy, many-windowed building behind the gallery. A lot of projects are in progress back there, including stained glass windows for a client church. There are several potter's wheels, bins of clay, kilns of every possible size and description and sculpture models that will eventually greet the world in bronze.
As far as anyone knows, bronze objects don't last forever, but they come pretty close. The oldest surviving cast-bronze objects on the planet date back to about 2,000 B.C. in Mesopotamia; and, are still in desirable condition.
We don't know their original prices, but it takes deep pockets to acquire one of them now. No, Bowman doesn't have a personal foundry at the studio.
"Sculptors rent a work area at a foundry and the company's employees do the actual metal casting," she said, adding that she uses a foundry in Arlington.
In 2015, she created a whimsical set of four bigger-than-life, leaping bronze frogs, which are a permanent part of the playground at North Lakes Park in Denton.
Her bronze line of Madonna torsos is mounted– on loan– in the Obstetrics Department at Texas Health Presbyterian Hospital Flower Mound.
Probably the most dramatic bronze at the gallery is inside a large sarcophagus with a granite lid. The life-size sculpture is a portrait of Bowman's dying mother. It takes a team just to move the sarcophagus lid, so she shows visitors its lighter-weight bronze maquette.
"A lot of people find the idea a bit odd, but my mother was a wonderful person whose final days I want to remember."
All this is only a fraction of both Bowmans' works on display hither and yon in private and public arenas.
When visiting the gallery– and perhaps the studio– look at everything in the front yard and on the porch– before knocking on the front door; a huge Alton Bowman creation of a leaded stained glass work, set in a wavy wood frame, the likes of which you will only see elsewhere at the Dallas Museum of Art.
A romantic ceramic bowl called "Oceans Dancing" is on display in the studio gallery. That's a must-see if you like ideas like Leger's "Pearl Divers," or mermaids.
Oh, and while you're inside, don't miss the authentic sculptures of prehistoric animals created by Sweety's daughter, Ariel.
Among other artist associations, the Bowmans are members of the Cross Timbers Artists' Guild, which will host its annual tour of 22 local art studios in November.
The Yarmouth Studio and Gallery address is 6524 Orchard Drive in Flower Mound, way down at the dead-end of Rocky Point Road.