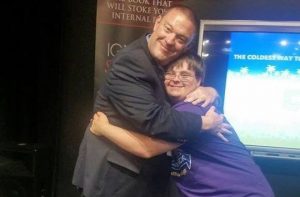 Texas' first business owner with Down syndrome got some advice recently from Flower Mound's own version of the "Shark Tank" TV show.
Local millionaire Charles Horton holds The Boardroom each month, inviting entrepreneurs to present their businesses to a panel of advisors who listen, question and sometimes invest. But the Boardroom has a different emphasis than Shark Tank.
"The thing we think Shark Tank missed is really good advice for entrepreneurs," Horton said while introducing the July 27 presentation. "They're really focusing more on entertainment."
What followed was one of the best Boardroom presentations since it began seven years ago, several panel members said.
Blake Pyron, 21, was born and raised in Sanger in north Denton County with Down syndrome. He was the varsity football captain, prom king and even Texas Citizen of the Year. Last year, he became Sanger's youngest business owner and the first one in the state with Down syndrome with the grand opening of "Blake's Snow Shack."
Blake quickly drew lots of press coverage and international fame, as people were inspired by his business success, cheerful personality and big smile.
Blake's Snow Shack is located in downtown Sanger, but he also has a mobile unit, called "Roadie," which travels to DFW events, including the Texas State Fair. He's been recognized by Governor Abbott and the U.S. senate, and you may have seen his logo on a car during a NASCAR race.
Blake and his mother, Mary Ann Pyron, presented their story to The Boardroom on July 27. Mary Ann discussed the challenges of learning shortly after Blake's birth that he had Down syndrome, and she kept hearing or reading about all the limitations he would have and refused to accept it.
"We made a conscious decision that we would never limit Blake on anything," Mary Ann Pyron said.
After Blake started high school in Sanger, he wanted to be just like his big brother, Mitchell, and get a job. He got one as a host and busboy at a barbecue restaurant in downtown Sanger, but it closed down right around the time he graduated from high school. Soon after, the Pyrons got the idea of opening a snow cone stand to provide relief for those hot Texas days.
"Blake's Snow Shack started as a challenge at our kitchen table," Mary Ann said.
In spite of hearing all his life that he would likely never have a job, Blake's Snow Shack opened on Mother's Day 2016. It's now the coolest place in Sanger, and the "coolest way to warm your heart."
"We feel like Blake, as an infant, was set up for failure," Mary Ann said. "I feel like the failure would have been if we had never tried."
Blake's Snow Shack wants to expand, with more trucks, more stands and more involvement in large DFW events, especially sporting events. Perhaps most importantly, the Pyrons want to "inspire people to push themselves."
The Boardroom live-streamed the presentation on its Facebook page, as it typically does. Usually, the live videos get a total of about 500 views, but this one got more than 3,700. Lots of comments on the video supported Blake and called the Pyrons' story inspiring. Horton told the Pyrons that he doesn't have many heroes, but they are some of his.
"To take the adversity you've had and turn it into a positive … this can be so powerful for other families," Horton said. "You're really a role model."
The next Boardroom date is Thursday, Oct 19. For more information about The Boardroom, visit boardroomlesson.com. For more information about Blake's Snow Shack, visit blakessnowshack.com.