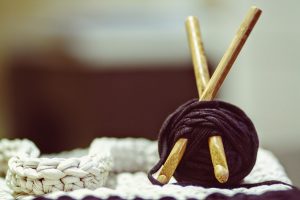 Robson Ranch-based groups recently donated hundreds of handmade items to mothers-to-be whose husbands are deployed in the U.S. military.
Operation Shower is a volunteer nonprofit organization coordinating baby showers across the country for these moms-to-be, according to a news release. Annually, there are 17 showers each hosting 40 mothers-to-be.
Since 2016, The Yarn Divas have coordinated efforts locally with The Material Girls and The Sassy Stampers to donate handmade items for the baby shower. This donation includes individual handmade cards for both the mothers-to-be and a thank you card to their husbands for their service to the country. Each mother-to-be receives a box of handmade items in addition to car seats, etc. from the corporate sponsor. This year, the groups sent 372 handmade items — including baby blankets, hats, booties, sweaters, bibs, washcloths and more — plus the cards for the 40 moms-to-be and their husbands.
In 2017, natural disasters caused HEB, the corporate sponsor for the Fort Hood Operation Shower, to postpone the baby shower until Wednesday. Shirley McCrory, co-chairman of Operation Shower at Robson Ranch, attended the February shower as a volunteer along with Nancy Chorba to deliver the donations.