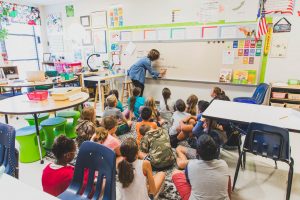 The Lewisville ISD has launched a new video library for educators to use for professional development and share their best classroom teaching practices.
LISD Professional Learning Coordinator Mike Brown hopes the project, which was in the making for over a year, will grow and "be an integral part of online learning," according to a district news release.
"We know that LISD has some of the best teachers in the country," Brown said. "We are hopeful that they will be willing to share their tips with other LISD teachers by creating and submitting videos to our library."
The video library is designed to support teachers in instructional strategies, content topics, grade level topics, special population topics, LEAD and ePortfolios, Brown added.
The searchable library contains content from LISD teachers as well as third-party sources. All submitted videos are vetted before they are added to the library.
"The benefit to teachers will be incredible," LISD Gifted and Talented Elementary Supervisor Debbie Roby said. "At their fingertips are videos that help demonstrate the 'how' best practices should look in the classroom."
Marcus High School Social Studies teacher Chris Porter submitted videos to the library when an LISD facilitator told him others could benefit from his lesson.
"Submitting and expanding the library is helpful for all teachers to improve by taking a look at best practices happening in other classrooms, not only at your campus, but around the district," Porter said. "We can't always be in other classrooms since we have our own to worry about each day. Reading about a theory or practice to use in your class is one thing, but seeing it in action is even better."
Teachers who submit a video prior to April 1 will have an opportunity to earn one hour of trade credit. For more information, click here.