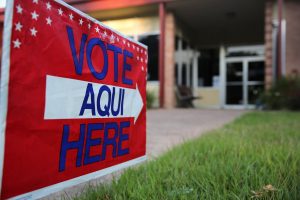 By Alex Samuels, The Texas Tribune
This year, Texas has the earliest primaries in the country on Tuesday, March 6.
And this cycle has an unusually high number of prominent open races, with eight Texans in the U.S. House opting not to run for re-election and more than a dozen in the Texas Legislature doing the same.
Lt. Gov. Dan Patrick and Gov. Greg Abbott, both Republicans, are up for re-election and facing primary challengers. So are Land Commissioner George P. Bush, Agriculture Commissioner Sid Miller and Railroad Commissioner Christi Craddick, all of whom are Republicans.
We've compiled an overview of some of the upcoming races, what forms of ID are acceptable at the polls and how voters can learn more about the 2018 candidates and races.
How do I know if I'm registered to vote?
The deadline to register to vote in the upcoming primaries has passed (and Texas doesn't allow voter registration on the day of an election). If you aren't already registered, you won't be able to cast a ballot in this year's primaries.
Don't know if you're registered? Check the Vote Denton website at www.votedenton.com or call the Denton County Elections Department at 940-349-3200.
Of note: There's no way to register online in Texas, but if you want to make sure you're set for future elections, you can register in person at your county voter registrar's office or by filling out a voter registration application online, printing it and mailing it to your county's registrar.
Where can I cast my ballot and what polling places are near me? 
Denton County makes it easy to find your polling location options on Election Day. Just visit www.votedenton.com or call the Denton County Elections Department at 940-349-3200.
Can I vote for either party? 
Yes, because Texas is an open-primary state. This means voters can decide every two years whether they'd rather help pick the Republican or the Democratic nominees (or hold out and go to third-party conventions).
Of note: Whatever primary you decide to vote in, you can only vote in that same party's runoff, if a runoff is held. You can also vote for either party's candidate in the general election.
What form of ID do I need to bring to the polls? 
If you're confused about what ID to bring to the polls for the 2018 election, you're probably not alone. The legal wrangling over the state's requirements has turned rather complicated. Here are the seven types of photo ID that will be accepted at the polls for the primaries:
A state driver's license issued by the Texas Department of Public Safety (DPS)
A Texas election identification certificate (issued by DPS)
A Texas personal identification card (issued by DPS)
A Texas license to carry a handgun (issued by DPS)
A U.S. military ID card that includes a personal photo
A U.S. citizenship certificate that includes a personal photo
So, what if I don't have one of the seven approved forms of ID? 
If you have qualifying photo ID, bring it. But if you don't, you can still cast a ballot.
Voters who do not have any of those documents and cannot "reasonably obtain" them can still cast a vote if they sign a form in which they swear that they have a "reasonable impediment" from obtaining appropriate identification.
Those voters will also have to present one of the following types of ID:
Valid voter registration certificate
Certified birth certificate
Copy or original of a current utility bill, bank statement, government check, paycheck or other document that shows the voter's name and address (any government document that contains a voter's photo must be an original)
A "reasonable impediment" can include a lack of transportation, disability or illness, family responsibilities or lost or stolen identification, among other things. And election judges may not question a voter about the reasonableness of a claimed impediment.
The "reasonable impediment" declaration forms will be available at each polling location. Voters are not expected to fill them out ahead of time, Taylor said.
Who will I be voting for? 
For both parties, the race for U.S. Senate will be at the top of the ballot. U.S. Sen. Ted Cruz is vying against four other Republicans in his bid for re-election, and U.S. Rep. Beto O'Rourke, D-El Paso, is the most well-known of three Democrats aiming to unseat Cruz.
At the state level, nine candidates are crowding the Democratic gubernatorial primary, with the highest-profile being former Dallas County Sheriff Lupe Valdez and Houston entrepreneur Andrew White, son of late Texas Gov. Mark White. Republican Land Commissioner George P. Bush is running for re-election and facing three primary challengers including Jerry Patterson, who previously held the job.
Lower on the ballot, all of the seats in the Texas House of Representatives and half of those in the Texas Senate are up for re-election. Below that are local races for county commissioner, justice of the peace, district attorney, and others. Find a sample ballot at www.votedenton.com and learn more about the local candidates at www.crosstimbersgazette.com.
In addition, the Republican Party of Texas will pose several propositions to GOP voters at the bottom of its primary ballot related to property taxes, E-verify, toll roads, Obamacare and more.
What would it take for an election to end up in a runoff? 
If no candidate receives a majority of the vote in the primary (i.e. 50 percent of the votes plus at least one additional vote) the top two vote-getters will compete in a primary runoff on May 22.
With several competitive races with multiple candidates shaping up across the state, it's likely some will result in runoff elections.
The Texas Tribune is a nonprofit, nonpartisan media organization that informs Texans — and engages with them — about public policy, politics, government and statewide issues. This story has been edited for length.