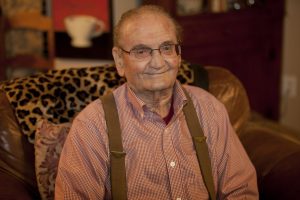 More than seven decades have passed since the end of World War II. Every day a growing number of people who served in that conflict are lost forever.
In America, those remaining veterans were mostly in the United States military; but, not all. Some once fought unwillingly on an opposing side.
Veteran 93-year-old Rudy Boettger was born in the eastern German town of Helle and served as a soldier in the Germany Army. Following the war, he moved to the U.S., became a naturalized American citizen and has lived with son Rolf and his family in Lantana since 2007.
While Boettger's father's family were not fans of Adolf Hitler and the Nazis, he had no choice but to ultimately join them.
At age 14, he was recruited to a soccer club as part of the Hitler Youth Movement. He was kicked-off the team and branded a rebel, when he refused to sell trinkets on street corners to raise money for that movement.
He and a friend, who had also asked to leave the club, later joined a Hitler Youth motor club, which allowed them to play soccer.
When he was originally drafted in 1942 at age 18, the 100-pound Boettger was told he was too small. Then the Battle of Stalingrad and other events in Russia happened, so he was quickly brought back.
"It was like he told me, the guy up front would say 'Can you hear me? Can you see me? OK, you're in.' They weren't quite as picky as before," said Boettger's son, who translated for his father when necessary.
He was wounded twice in Russia– in fall 1943 and more seriously in spring 1944– and his leg injury still causes a noticeable limp and use of a walker. Two of his three brothers were not so lucky.
On his way to the hospital for treatment, he visited his home for three days to celebrate his mother's birthday. Once he showed up, he was arrested for desertion and spent five days in the military jail.
"It was worth it to see his mom," said daughter-in-law, Lisa.
After the war ended in 1945, Boettger returned to Helle where, for 11 years, he worked as a printer and bookbinder. His father died in 1946 and mother in 1954; and, two years later, he started a journey to live with his Uncle Joe in New York City.
He quickly picked up work as a printer and soon met Liesel, also from Germany and living with an uncle in the New York City area of Queens, filled with former Germans. They married in 1958 and had their only child, Rolf, in 1961.
"They took a look at 'that giant' and said that's enough," he said; his mother stood only 4-feet, 11-inches tall.
A visit from Liesel's parents in 1965 made her homesick. Two years later, the family moved back to her small town near Heidelberg, where Boettger again worked as a printer, until he retired in 1984. Leisel died in 1980 and Rolf returned to the U.S. in 1982 to join the U.S. Air Force.
About midway through his 25-year military career, Rolf met Fort Worth native and longtime Richardson resident Lisa in Cheyenne, Wyoming; they married in 1994. It was Rolf's second marriage, the first of which produced sons Alex, 33, who lives in Portland, Oregon, and Daniel, 31, now in Houston.
Rolf retired from the military as a Major following stints in South Dakota, Wyoming, Germany, England, Belgium and Virginia. Ironically, Rolf spent considerable time his final four years in the military in Russia where he bragged he made it further into that country than his father.
Boettger joined his son's family in Virginia in 2003.
Since coming to Texas, Rolf has worked in construction project management and as a construction and home-building purchasing agent currently with Meritage Homes. The Boettgers moved to Lantana in 2007 and have lived in the same home ever since. Their daughter Anna, now 19, is a 2017 Denton Guyer High School graduate. She's a freshman studying computer animation at Full Sail University near Orlando, Florida.
"When he first lived with us in Virginia he'd still do quite a bit of travel," daughter-in-law Lisa said. "He would go back to Germany every year."
Though the typical health challenges of someone his age have kept Rudy from traveling to his homeland since 2009, he remains as busy as ever.
"Rudy is so social," she said. "He wants to go out to eat. He loves to shop. He loves to people watch. It's all about getting him up and out."
"I like the malls," said Rudy, who really likes everything about his adopted home state.
"He once told me the thing likes about Texas is there is so much land," she said. "There's so many wide-open spaces and you don't see that in Germany." said Lisa, who said Boettger loves sitting on the porch at her uncle's farm in Granbury.
"It's too dense. It's like when I met Rolf he said, 'imagine 80-million people living in Montana,' she added. "That's Germany. I never thought about it that way."