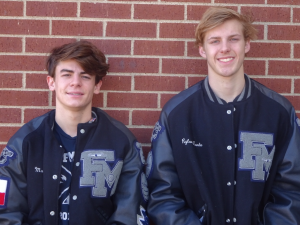 Two Flower Mound High School students, Max Wade and Rylan Lantz. have been selected to the USA Water Polo Olympic Development Program.
The Olympic Development Program identifies and trains athletes from all over the country to represent USA Water Polo through domestic and international competition, according to a news release. ODP involves 13 different geographic zones throughout the country and the top 14 athletes chosen from each zone move on to compete and learn at the ODP zone Championship in February.
Although water polo is not yet a UIL sport, it is expected to be ratified in the coming years, according to the news release. For the past three years, the Flower Mound teams have advanced to The Texas State Championship Tournament with the boys winning 2nd place in 2017 and 3rd place in 2016 and 2015 and the girls won 9th place in 2017, and 5th place in 2016.
Head Coach Troy Goddard is enthusiastic about the sport at Flower Mound High School, the news release said, and has seen the development of the sport in this area first hand. He is also actively building the program for younger athletes to get involved and learn the fundamentals to be competitive at the high school level.