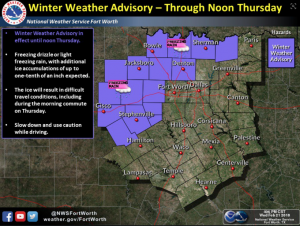 The National Weather Service has extended its winter weather advisory for Denton County and many other counties outside the Dallas-Fort Worth Metroplex.
Freezing drizzle or light freezing rain is expected in Denton County and areas to the west through Thursday morning, according to the weather service forecast, with additional ice accumulations of one-tenth of an inch expected. The dividing freezing line appears to cut diagonally through Denton County, so the eastern part of our area may not get as much frozen precipitation as the western part.
The ice may make travel conditions worse for the Thursday morning commute, so drivers are encouraged to use extra caution, the weather service said Wednesday afternoon.