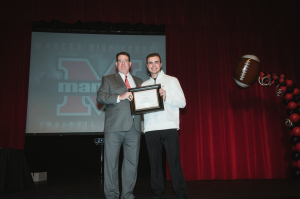 A former Marcus Marauder quarterback and local leader announced this week that he has launched a foundation and scholarship to benefit Marcus football players.
Highland Village City Council member Dan Jaworski announced Monday the formation of The Marauder 17 Foundation and The Bob Jaworski "Boost Your Dreams" Memorial Scholarship for Marcus Marauder football players. The Foundation, which is a federally recognized 501(c)(3) non-profit organization, will be committed to developing student athletes into leaders and providing scholarships to players wishing to pursue higher education after graduation, according to a news release.
"The Marcus Marauder football program gave me so much as a young man that has carried me through both successes and challenges throughout my life," said Jaworski, who quarterbacked for Marcus in 1988. "I owe much of who I am today to this program and men like the legendary Coach Que Brittain, and other Marcus coaches like Danny Henson, Steve Telaneus, and Mike Burt. Starting this foundation is something I wanted to do to give something back to the program and to benefit the young men who are carrying on the hard work and traditions we started over 30 years ago."
Jaworski hopes to use the foundation to provide scholarship opportunities to more athletes who aren't highly ranked college recruits, whether or not they choose to play college sports, as was his case when he graduated in 1989.
"The Bob Jaworski Boost Your Dreams Scholarship is named after my dad, who was the very first president of the Marcus Football Booster Club and will be awarded to players each year based on a well-rounded criteria that includes hard work and leadership on the field, in the classroom and in the community," Dan Jaworski said in a prepared statement. "I had to work hard to get through college so, if this scholarship can make it just a little easier for these athletes, this foundation will be successful."
Marcus Marauder Quarterback Xavier Maxwell was, in the eyes of Jaworski, the perfect example of what the foundation is looking for each year. Maxwell started the summer two-a-day program as the likely starter for the Marauders, but did not get the job. Rather than take the demotion and spend the season watching the sidelines, he seized the opportunity to earn his starting position back.
"He showed a willingness to put what was best for the team ahead of his own goals. In doing that, he earned the respect of his team and he became a leader that I dare say every player on the team would follow," Jaworski said in a speech given at Sunday night's annual awards banquet. "I wanted the first winner to be someone who personified what it is to be a Marauder, first and foremost, and second, someone that reminded me of my own journey as a Marauder. Xavier is the perfect example of both."
The foundation will also offer a mentoring program, which is in development, for student athletes aimed at creating student leaders. Called "SALES" for Student Athlete Leadership Excellence Symposium, athletes will experience a program modeled after the NFL Rookie Symposium.
"We have learned through extensive research that while the Rookie Symposium and the programs offered by NCAA programs provide tremendous information to young athletes, these programs don't provide enough young men and women those valuable tools early enough and are often too late," Jaworski said. "We want to reach these young men and women as early as possible and teach them how to properly care for their reputations, their minds, their finances, and their health. Ultimately, we want to equip them to be successful at every level in life."
Funding for the foundation will initially come from the Jaworski family but fundraising will be what sustains it.
"We plan to reach out to alumni, former players and coaches and local businesses," Jaworski said. "We hope people will recognize the need and the fantastic opportunity to invest in the future, as well as gaining a much needed charitable giving tax deduction."
If you wish to donate to The Marauder 17 Foundation, send your check to The Marauder 17 Foundation, 2221 Justin Rd. Box 119-317 Flower Mound, TX 75028. More information is available on The Marauder 17 Foundation Facebook page.