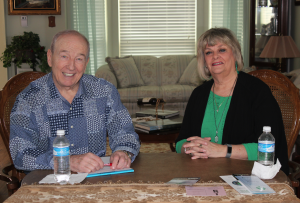 Each year over 210,000 people in the United States are diagnosed with a primary or metastatic brain tumor; that's over 500 people every day. Brain tumors are the second leading cause of cancer death in children under age 20. Only one out of three adults diagnosed with a malignant brain tumor today will be alive in five years. More so than any other cancer, a brain tumor can have life-altering psychological, cognitive, behavioral, and physical effects. It can happen suddenly, without warning and without any prior signs. The family of Glenn Garcelon is very aware of that fact.
Argyle resident Judy Johannesen is a representative for the Glenn Garcelon Foundation. The 501c3 nonprofit was started in 2010 in honor of Glenn F. Garcelon, who passed away in 2008 following a 3 1/2 year battle with brain cancer. The goal of the Foundation is: "to pay it forward; to take the lessons of love, warmth, support and compassion, which was learned from Glenn, and make a difference in the lives of others." The following comes from: www.glenngarcelonfoundation.org
"Glenn Garcelon dedicated his life to helping others. He worked for the Federal Emergency Management Agency (FEMA) for 30 years, aiding victims of natural disasters. He also held many volunteer positions: including reading books on tape for the blind, implementing a student/mentor reading program at a local elementary school and volunteering in a crisis call center and a hospital. He regularly donated both blood and plasma and had plans to become a bone marrow donor prior to his illness. He supported a multitude of causes including Mercy Corps, Doctors Without Borders, the Nature Conservancy, the Red Cross, Habitat for Humanity, and Save Darfur. He was an active member of his church's outreach committee and served as chair in both his Texas and Oregon churches.
"When Glenn retired from FEMA in 2001, he and Gail decided to relocate back to the Pacific Northwest, settling in Portland, Oregon.  Glenn took on some work as a consultant with FEMA, but enjoyed spending most of his time with his family and friends. On the beautiful, warm Portland morning of September 4, 2004, while out for his daily run, Glenn suffered a seizure. He was taken to a local hospital where it was determined that he had a golf ball-sized tumor on the left temporal lobe of his brain. The tumor was a glioblastoma multiforme (GBM), the most common and most aggressive type of malignant brain tumor.
"Glenn began treatment immediately at Oregon Health and Sciences University Hospital (OHSU) in Portland.  Surgery was not an option due to the location of the tumor, but he underwent a full round of radiation and monthly intra-arterial chemotherapy treatments for 26 months. From the beginning Glenn's prognosis was not good.  He was given 9-18 months to live. Surprising his doctors (but not those who knew him and his fighting spirit), Glenn defied those odds until an MRI in February, 2008 showed that, for the first time, the tumor had grown significantly.  Glenn made the decision at that time to not pursue further treatment and began hospice care at home.
"He spent his final weeks with his family by his side. One day he gathered his wife Gail and the girls around his bed and told them that the experience of slowly leaving this world was like being on a long train ride – smooth and comfortable. He spent his time in bed enjoying the view of the evergreen trees and the gray and rainy Oregon spring days that he loved so much, surrounded by those who loved him. He died peacefully in his sleep on April 5, 2008, with the knowledge that he was greatly loved by all who were fortunate enough to have known him. His final act of helping others was donating his body to the medical school at OHSU for training and research."
Many Texas families courageously battle brain tumors. Help ease the financial burden of some of those families by taking a few swings in the Glenn Garcelon Foundation's Seventh Annual Golf Classic on April 15. The 4-Person Scramble will take place at Tour 18, 8718 Amen Corner in Flower Mound TX. Registration opens at 11 a.m. (Tee time is 1 PM). The website (above) has all the details.
Bob Weir is a former NYPD officer, long-time Flower Mound resident and former local newspaper editor.