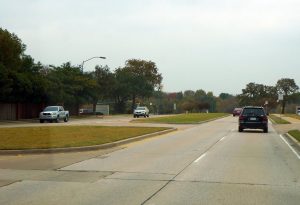 The Flower Mound Town Council voted unanimously Monday night to keep Morriss Road a four-lane road.
The overflow audience– that included the 36 public speakers and 20 people who submitted cards, but chose not to speak (in addition to 89 emails against an expansion)– applauded the council members' decision not to expand the road to six-lanes.
However, many problems need to be resolved: safety issues in the section between FM 3040 and FM 1171 where lanes are only 11-feet wide, as opposed to 12-feet; access to Forestwood Middle School from Morriss referred to as the Fuqua Option; upgraded safety issues, such as lane demarcations and lighting improvements; and, adjusting funding options regarding ADA (Americans with Disabilities Act) requirements.
One option discussed involved adding bike lanes to Morriss between FM 3040 and FM 1171.
"We need to look at all the options we want to consider, including the transitions at FM 3040 [Editor: from the six-lanes of Gerault north to four-lanes as Morriss Road] and the re-alignment of Morriss at the intersection of FM 1171," said Councilman Claudio Forrest. "We need to look at all the options and create a 'menu' of what we want to do."
Councilman Jason Webb agreed, saying: "We should've done this in November. Staff needed our direction of what to do then; before we spent money."
The council agreed with Mayor Tom Hayden that the best way to proceed is in a detailed multiple-steps procedure to create and act upon a list of options.
To that end, council officially requested town staff to: ask the Transportation Commission to study for its recommendation to Planning & Zoning– then, its recommendation to Town Council– for a possible Thoroughfare Amendment designation for Morriss Road so it would not be classified as a Major Arterial; and, begin a consideration of reducing the speed limit from 40 to 35-miles-per-hour between FM 3040 and FM 1171.
Staff will also be providing "rough" funding information related to the various options.
The next Town Council meeting is scheduled for Feb. 19.