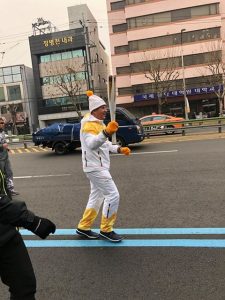 A Highland Village resident carried the Olympic flame last month in the PyeongChang 2018 Olympic Torch Relay ahead of the Olympic Winter Games, which begin this week.
Tod Taylor works for FedEx, which is a partner with Samsung, one of the presenting sponsors of the Olympic Torch Relay. The Olympic flame continually burns in Olympia, Greece until 101 days before the Olympic Winter Games, when it goes to the host country and relay runners tour the country with it.
As part of a work initiative, Taylor was among 7,500 people chosen to participate in the 2,018-kilometer torch relay in South Korea. On Jan. 16, Taylor was outfitted in the uniform and torch, which he got to keep, and set up for his turn in downtown Seoul.
Each runner has his or her torch lit by the previous runner and runs 200 meters to pass the flame to the next one. Taylor said as he carried the flame, throngs of South Koreans lined the streets to cheer him and the other runners on.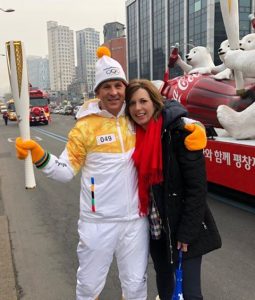 "It was like no one was at work at school, they were all cheering us on," Taylor said. "It was incredible. It was a typical workday, but they came out and were so energized and supportive of this relay."
It was a bucket list experience, he said.
Taylor, managing director of sales and marketing, said he stayed in South Korea with his wife, Sherry, for about a week. It's "an incredible country" and it "will be a great host country, despite the unrest with its northern neighbor."
PyeongChang 2018 Olympic Winter Games Opening Ceremony will air on NBC at 7 p.m. Friday., while some competitions are scheduled to air on NBC and NBCSN earlier this week.
https://www.facebook.com/dane.taylor.79/videos/10215509091544058/