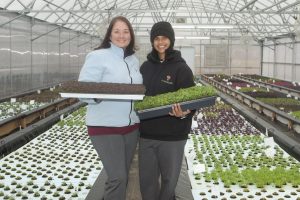 When 18-year-old Yseut (pronounced Ee-set) Berlingeri announced in 1995 she intended to become a chef, her father's reaction was, "a lunch lady?"
During high school she'd worked for a caterer in her home of Ponce, Puerto Rico.
"Apparently he was hoping for a lawyer or a doctor," the Lantana resident said.  She wore down his resistance.  "He caved-in and sent me to the Culinary Institute of America (CIA) in New York.  I had big plans to wow the world as a travel channel chef."
However, the drop-dead beautiful girl hit a predictable non-career speed bump– another chef-in-the-making from Springfield, Illinois, named Michael Stambaugh, who became her husband.
In 1997, the classically-trained couple graduated and went to work at the El Conquistador Hotel, a Waldorf Astoria resort, with somewhere in the neighborhood of 23 restaurants, cafés and bars on the beach in Fajardo, Puerto Rico.  THE dream job!  Well, maybe.
"If you like to work nights, weekends and every holiday known to man," Berlingeri said, "become a chef! I discovered my main problem with being an unknown chef was the unknown hours."
Not, however, to be deterred from her goal, she soldiered-up the professional ladder by working at a number of AAA and 5-Diamond establishments.
"The Executive Chef at the Atlanta Restaurant Group in Georgia was the most incredible teacher," she said.
Eventually, she became the Executive Sous Chef at Dallas' Hotel Zsa-Zsa, plus the Chef de Cuisine at Luqa in downtown Dallas.
Meanwhile, Stambaugh had decided to follow a different career path that led the couple out and about overseas for five years.  During that time, Chef Berlingeri occupied her time as a private caterer.  Her training was custom-made for the adventure.
Classical training at CIA included knowledge of international palate-pleasers from French, New America, and Asian culinary repertoires.
"The menu at El Conquistador also included popular upscale Puerto Rican specialties," she said.
Time passed.
In connection with a local school district, one of Berlingeri's cousins set up a small teaching facility for aquaponics farming near Jacksonville, Florida.  Aquaponics marries conventional farming of water animals (aquaculture) to soilless plant production (hydroponics) in a mutually-beneficial environment that goes easy on natural resources.
It didn't take long for local chefs to inquire about buying the cousin's produce; and, Gyo-Greens, a successful small Florida business, came into being. Berlingeri had returned to the States and her cousin called for help.
"Me?  A farmer?"
The beginning of the farm-to-table movement dates back to the 1980s when a Berkeley, California, chef and restaurateur named Alice Water had made a huge splash using only products from farmers in the San Francisco area.  Three things dominated Water's menus: fresh, fresh, and fresh.  The concept of "health food" took the First World by storm.  Chef Water added chemical-free into the list of dominants and "organic food" made its grand entrance.
"I heard about her, read about her and watched her on television," Berlingeri said, "Water's principal ideas were that any culinary creation should have less than 10 ingredients and– this is important– ordinary people should be able to pronounce the names of everything in their food without difficulty.  The idea appealed to me immediately."
After a year managing the operation that supplied restaurants with organic greens, Berlingeri moved to Dallas with her husband.  She was searching for something creative to do.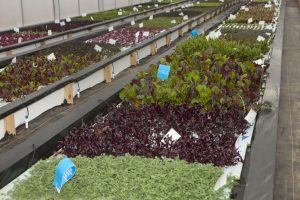 "I wanted to learn the business end of the chef's world," she said. "Market Street grocery store hired me as Kitchen Manager in their new Flower Mound location.  This was my next career step to becoming an Executive Chef.  People in that job [level] stop cooking and spend their days as business managers."
To reach that goal, she also enrolled in the New England Culinary Institute's (NECI) bachelor's degree program in Food and Beverage Management. Berlingeri not only graduated, but was the keynote speaker at her commencement ceremony.
"I worked full-time then came home at night and took classes online.  It was exhausting," she said.
Berlingeri and her assistant Kitchen Manager– a Dallas Cordon Bleu School graduate– Chef Betty Beard of Lewisville, ran the Flower Mound operation. They made food, chatted about Alice Water, health food, organic produce, and Berlingeri's aquaponics experience.
They both liked the idea of becoming chef-farmers, but how could they make the jump?  Beard says her family hooted with laughter at the vision of her playing in the dirt.
Berlingeri laughs at her naiveté back then: "I started looking at land around the Lantana area."
The banks chuckled, too.  The circumference of the search area grew until she located 10-acres north of Denton near Slidell (pop. 200).
"Someone suggested I call my project a' woman-owned, minority-owned' farm operation," she said.
That unlocked the funding door and MY Epicurean Farm came to life.  The capitalized MY stands for Michael and Yseut.
So, what exactly is an "epicurean?"  A person with luxurious food and drink habits.
The English word "epicurean" is synonymous with the French word gourmet— a cultural ideal of fine food and drink produced and prepared at every stage by refined techniques, then presented aesthetically in gigantic meals of small, rich, expensive courses.
The produce from MY Epicurean Farm reaches for these culinary stars and chefs in high-end local restaurants order MY Epicurean's live ingredients like "confetti greens" to please their clientele's eyes, noses and taste buds.  Like Chef Alice Water, Chef Yseut Berlingeri hit on a new idea.
A typical micro-green, not to be confused with a nearly colorless sprout, is no taller than 1.5-inches and is approximately 14-days- (or less) old.  The next size up is a petite or baby green, standing between 1.5- to 3inches tall, aged two- to six-weeks-old.  Young mature or adolescent greens are 3- to 6-inches tall and up to 12-weeks-old.
"Chefs order our greenhouse trays of plants," said Berlingeri.  "Our competitors sell bagged greens, which don't last as long in prime condition.  We teach chefs where to store the plants and how to harvest with small scissors as needed. MY Epicurean micro-greens are grown in special soils and a pair of high-light greenhouses."
Year-round the pros use micro-greens in salads, sandwiches, soups and garnishes. They return the trays and spent growing medium to the farm.
Larger baby greens grow in net bags suspended through holes in large Styrofoam sheets that float atop custom-made, long, shallow grow "beds" filled with aquacultured water.  This produce is notable for lots of digestible vitamins, minerals, phytonutrients, exceptionally sharp flavors, intense color plus texture and enzymes.
USDA research suggests micro-greens may have five-times more nutritional value that their mature counterparts.  The most intensely colored plants have the highest nutritional value.
What plants make good micro-greens?  Try basil, beets, broccoli, spinach, celery, cilantro, lettuces and parsley.  The list can go on at length.  If all that isn't enough for a chef's money, when properly tended, many will re-grow and produce multiple tiny harvests.
MY Epicurean uses only organic seeds, organic growing media and produces what we'd have to call organic water in four huge tanks of Koi.  The "gold fish" in each tank swim around eating and excreting in 11,000 gallons of water.
The contaminated water goes through a jazzy filtration system that strains out unwanted materials, then passes the remaining product into a holding tank for release into water-filled grow-tables or earthy grow trays as needed.  The plant roots absorb nutrients from the water which is circulated back to the fish to renew the organic cycle.
The fish, of course grow big.  Their job description calls for taking food in one end and sending it out the other.
"They don't eat as much when they age and the old guys just lounge around unproductively at the bottom of the tanks," said Berlingeri.
When waste production slows down, the fish are marketed to local pond owners.
"Some aquaponics operations use tilapia, which end up as food, but tilapia don't do as well as koi in north Texas winters," Berlingeri said.
A year after leaving the professional kitchen behind, Beard thinks the world would benefit if we all were open-minded about new things.  "Time is limited," she said.  "Get out of the proverbial box."
Berlingeri, the modern farmer/entrepreneur, still quotes the granddaddy of all French haute cuisine, Monsieur Escoffier, who said: "Good food is the foundation of genuine happiness."
And that, as far as she is concerned, says it all.
Visit MY Epicurean Farm at www.myepicureanfarm.com.