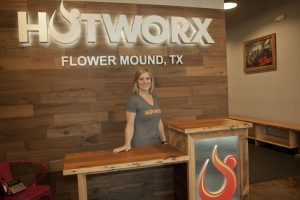 Combine heat, infrared energy and isometrics exercises in a sauna setting available 24 hours a day and you have the most efficient workout in the marketplace today.
Located on 407/Justin Road west of Chinn Chapel in the Flower Mound/Highland Village area, HOTWORX is the first of many potential North Texas locations. It offers more than 750 classes in a 24-hour period, all of which are virtually instructed.
"HOTWORX meets the fast-paced needs of today's society with 24-hour access and 30- or 15 minute HIIT (high-intensity interval training) classes," said owner Lindsay Guier of Argyle. "With our system people don't have to line their schedules up with fitness instructors and typical gym classes."
Classes are conducted in 15-minute HIIT and 30-minute isometric intervals in infrared saunas holding up to three people.
"Exercise combined with infrared heat provides so many health benefits including weight loss, stress reduction, reduced cellulite, increased strength and flexibility, and anti-aging to name a few," Guier said.
The Flower Mound facility opened Oct. 1 and features five saunas. Three focus on two different 30-minute isometric classes – Warrior/CORE, ISO/Yoga and Pilates/Buns. The fourth and fifth saunas concentrate on 15-minute HIIT classes, cycle and elliptical style rowing machines.
"HOTWORX provides a convenient, affordable way to tone up, detox and torch major calories." Guier said. "There's just something about the way you feel when you step out of that sauna."
HOTWORX offers monthly memberships which allow for unlimited classes including the FX ZONE functional training zone featuring kettle bells, dumbbells, myocore bands, battle ropes and much more.
Their grand opening celebration will be held on Tuesday, January 23, with a ribbon cutting at 9:30 a.m. Throughout the day they will be offering: 25% off all retail items, $1 enrollment fee for new members, and the first five people to join that day will get February for free.
To schedule a free trial class call 940-455-2000 or visit the HOTWORX Flower Mound Facebook page.