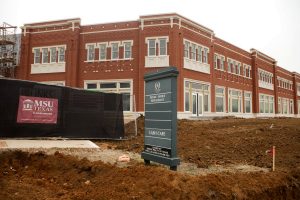 Classes for the spring semester at the Flower Mound campus of Midwestern State University (MSU) began on Jan. 13– even though there are no classrooms, yet.
"The building has been slightly delayed from opening for the spring semester, but it'll open by mid- to late-February," said Randy Canivel, director of the Flower Mound campus. "And, NCTC will occupy their space in the second part of the semester– the second week in March."
The Flower Mound campus spring semester will offer online classes– hence, no need for brick-and-mortar classrooms.
Sitting at the east end of Parker Square on FM 1171, the 30,000-square-foot, two-story building will house classrooms, two science laboratories, a combination laboratory and lecture classroom, three interactive television classrooms and two seminar classrooms.
The facility also will have tutoring and study space, administrative and faculty offices, a bookstore and a conference room that will be available for community use.
The space will be shared with North Central Texas College, along with the bookstore and tutoring center. NCTC will also teach classes and house faculty and staff in the new facility. NCTC already has an established campus in Parker Square that opened in January 2011 and serves over 2,000 students.
The two schools, which share founder Randolph Lee Clark, will allow students to earn an associate's degree and then move on to earn a baccalaureate degree on the same campus.
MSU was established in 1922 in Wichita Falls, Texas. It's one of four independent public universities in the state unaffiliated with a state public university system.
Unlike its main campus in Wichita Falls and its NCTC counterpart in Parker Square, the Flower Mound campus is targeting adult learners and place-bound students.
"We're focusing on the extension-level degrees," said Canivel. "We're offering very small classes, including the teacher-student ratio. We're working to make classes affordable and convenient for those who either didn't finish their degree or want to continue. In addition, the new building will have space to utilize for meetings.
Currently, the Flower Mound campus offers classes in: Bachelor of Applied Arts & Sciences; Elementary/Middle School Education; Nursing (RN to BSN); Radiologic Sciences (RT to BSRS); and, Respiratory Care (RRT to BSRC).
The expansion is part of MSU President Suzanne Shipley's goal to grow the university by 2,000 students in time for the university's 100th birthday in 2022. She hopes to add 1,500 students at off-campus locations and 500 students on its main residential campus in Wichita Falls.
"Every day there's something new and expanding from Wichita Falls," said Canivel.
Although the official deadline for admission and credential submission was Dec. 1, students "can still apply through the second week of January and will be a late enrollment."
Canivel encouraged anyone thinking about taking classes to contact Janette Keen: [email protected], or call: 972-410-0450.
"She's an expert at helping people with program information, registration questions and advising," he said.
For more information, visit: [email protected] or call 1-800-842-1922.