The approach of the New Year will usher in some of the coldest air we have seen in a long time.
A strong arctic cold front will move through Denton County on Saturday afternoon with temperatures falling Saturday night and into New Year's Eve.
Temperatures will plunge into the teens and 20s behind the front. Wind chill values will make it feel in the single digits and teens at times, especially overnight and in the morning hours.
It may not get above freezing until Wednesday afternoon so residents and business owners are encouraged to prepare for the prolonged freeze with these tips from the City of Highland Village Utility Department:
Before Freezing Weather
Wrap all exposed pipes located outside or in unheated areas of the home.
Remove/disconnect garden hoses from outside faucets. Insulate outside faucets with a Styrofoam cover.
Cover vents around the foundation of your home.
Check all waterlines in attics to make sure proper insulation is on all exposed pipes.
Know where your water cut-off valve is located and how to use it. The valve is typically located adjacent to the water meter box toward your home under a 6″ metal or plastic lid.
Swimming Pool Owners
Fill your pool before subfreezing temperatures arrive. Hoses will be frozen if you wait until the last minute.
Make sure the main pump is running properly and operating during the freeze mode.
Make sure all of the baskets are clean, and kept clean, so water flow is not restricted. Typically once temperatures approach freezing your pool equipment will automatically turn on and will not turn off until temperatures are above freezing.
In Subfreezing Weather
Open cabinet doors under sinks that are adjacent to outside walls.
In unheated or unfinished garages, all exposed waterlines should be insulated and protected from freezing temperatures.
Take extra precautions to protect pipes that have frozen in the past.
If You Are Not Going To Be Home
Shut water off at the water cut-off valve.
If your house will be unoccupied for several days drain all outside water faucets.
Leave your home heating system on at a low setting.
Open cabinet doors under sinks that are adjacent to outside walls.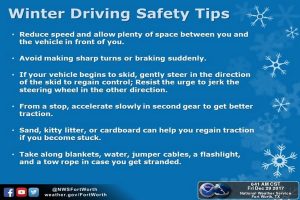 There will be a chance of light rain or drizzle behind the front starting Saturday evening, and as temperatures fall below freezing this may lead to light ice accumulations, especially on bridges and overpasses making travel hazardous.
If you must travel during winter weather, drivers are urged to follow these precautions from TxDOT:
Reduce speed. Speed limits are based on normal road conditions, not winter road conditions. Do not use cruise control.
Maintain at least three times the normal following distance on snow or ice.
Watch carefully for personnel and equipment treating roadways, and stay at least 200 feet back from road crews.
Use extra caution on bridges, ramps, overpasses and shaded areas as they tend to freeze first.
Carry extra warm coats, gloves and boots in case you get stranded.
If you start to slide, ease off the gas pedal or brakes. Steer into the direction of the skid until you feel you have regained traction, and then straighten your vehicle.
TxDOT crews will monitor the highways until during this winter weather event. Motorists can obtain travel information by calling (800) 452-9292 or by visiting www.drivetexas.org. Road conditions and traffic updates are available on Facebook, www.facebook.com/txdot and Twitter, www.twitter.com/txdot.