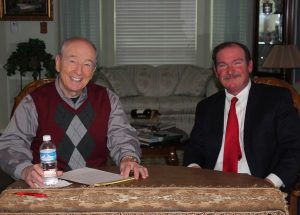 Paul Johnson is running for his fourth term as Denton County's District Attorney in the Republican primary on March 6, 2018. Johnson was first elected as the county's top prosecutor in 2006 and has had opponents every four years since taking office. His current opponent in the GOP primary, Brent Bowen, ran unsuccessfully against Johnson 8 years ago. See my recent interview with Bowen here.
The winner of the primary will be on the Republican ballot during the general election in November 2018. In the video interview below, Mr. Johnson talks about some of his accomplishments during the past 11 years. The following info comes from Johnson's reelection website.
Paul earned a Bachelor of Science degree in Criminal Justice from the University of Texas at Arlington and a law degree from the University of Houston School of Law. Before attending college, Paul began his career in law enforcement as a prison guard with the Texas Department of Corrections. Paul considers it an honor and a privilege to serve the citizens of Denton County as District Attorney. He believes the primary responsibility of the District Attorney is to seek justice and enhance public safety for all citizens by aggressively, fairly, and ethically prosecuting those who violate the law.
Paul is extremely proud of the many improvements in his office and the numerous accomplishments of his staff. As District Attorney, Paul spearheaded the development of Specialized Treatment Court Programs in Denton County, including the: Veteran's Treatment Court Program; First Time Offender / Drug Treatment Court Program; DWI Treatment Court Program; and Mental Health Treatment Court Program.
These specialized programs enhance public safety and provide qualified veterans, first time offenders, and non-violent offenders with drug or alcohol dependency issues or mental health issues with an alternative path through the criminal justice process aimed at rehabilitation and recovery. As District Attorney, Paul partnered his office with the Denton Independent School District to develop a criminal justice intern program which provides high school students with a valuable hands-on work experience in the District Attorney's office.
Paul proudly serves on the board of the Denton County Children's Advocacy Center, and he is a member of the University of North Texas Criminal Justice Professional Advisory Council. Paul and his wife, Katherine, have been married and living in Denton County for over 30 years. They are the parents of three children. Additional info is provided by the accompanying link: www.pauljohnsonda.com