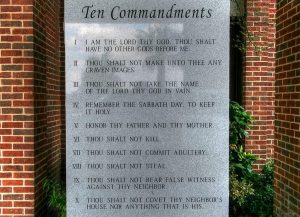 The new Music City Mall Lewisville (formerly Vista Ridge Mall) continues its transition to a family-friendly entertainment and shopping destination with the unveiling of its permanent Ten Commandments monuments Friday afternoon at 3 p.m.
The Ten Commandments will be featured in the lower level of the mall weighing over 5,900 pounds and measuring in at 8-feet-tall and 5-feet-wide. A second stone tablet which highlights two commandments will be displayed on an upper level entrance of the mall, weighing in at nearly 1,800 pounds.
"We're not trying to make a statement, we just believe in the Lord's love," said Investment Corporation of America CEO John Bushman. "I along with our team members just think that more "love" is needed in the world by ALL from the time we are born to the time that we leave this earth. We think the Ten Commandments is the foundation for love and what we should all aspire to live by."
The public is invited to attend the unveiling. The commandments will then be on display year-round.
"We just think that most people want their kids to know the ten commandments and abide by them," Bushman said.
Music City Mall Lewisville is located at FM 3040 and I-35E.