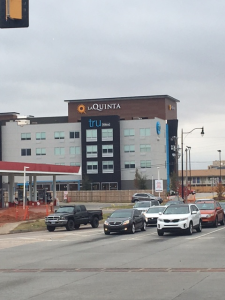 [EDITOR: what follows is an article sharing the opinions of Mayor Tom Hayden, quotes from town residents and officials made during public meetings and town documents.
In addition, contributions from Kendra Stephenson, principal of Portmanteau Consulting, are included in her capacity as a representative for the applicant of The Point development. These inserts will be in italics to clarify authorship.]
There have been questions, confusion and concerns about the proposed Flower Mound development named The Point from the Oct. 23 Planning & Zoning workshop presentation, the Dec. 7 presentation for the town's Park Board members and the Dec. 11 official presentation requesting the rezoning of the 34.5-acre development located within the Lakeside Business District (LBD).
The only opinion expressed in this article is that of the Mayor as it appears the CTG did not speak to any other council members or anyone on the Project team.
The request is to rezone the project from Planned Development (PD-31) with Campus Commercial (CC) to Planned Development (PD-156) with both non-residential and residential to comply with the CC land-use within the LBD area; and, that's been questioned, because the request is for a PD, not a Mixed-Use District with possible exemptions.
The Lakeside Business District Area Plan and the Campus Commercial land use designation contain all of the uses needed for The Point including residential. There is no need to utilize the mixed-use district. In our opinion that would be redundant at a minimum. 
The Cross Timbers Gazette has received first-hand information from verified sources and public documents, meetings and additional already-published material.
Related to the rezoning request is the issue of park land dedication and/or fees paid by developers — which are deposited in the town's Parks and Recreation budget — and are determined on different scales for residential versus mixed-use districts.
At the Sept. 25, 2017 Town Council meeting, Council directed staff to revise the ordinances to address this. The Point moved forward under the process dictated by the Town Manager after the revisions were delayed. The exact process had not been used before by a project like The Point, but we were given assurances that it was appropriate for us to request the use of alternative park standards using this process. As noted by CTG below, other projects have used alternative park standards. 
The workshop and Park Board meetings presentations were led by Kendra Stephenson, former Town Council member and principal of Portmanteau Consulting, while Direct Development's Co-founder and Managing Principal David Watson led his project's presentation at the official P&Z meeting.
"You're going to go from a PD-31 to a PD-156, not the Mixed-Use District Ordinance, but you've used the term 'mixed-use' probably a half-a-dozen times in the first several minutes of your presentation; so, my expectation is that you're going for mixed-use," said Parks Board member Rick Kenyon during the Dec. 7 meeting.
Stephenson responded that she was using "mixed-use" as a land-planning term, not as it relates to the town ordinance. However, the applicant has used that ordinance formula for The Point's proposed Park Dedication fees.
The project's location history is a contributing factor underlying some of the confusion and questions related to town zoning. Also, Flower Mound bases its residential (of any variety) Parks and Recreation Department fees on only one single-family residential basis, with only two options– land or financial contributions– determined by a set formula. This standard is still in place for residential PDs.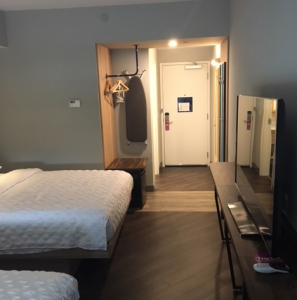 In 1985, 1,500-acres in town were under the Planned Development (PD)-31.
In 2001, two ends of town were created– the LBD and in the western part of town, the Denton Creek area. The PD-31 MPA (there was no master plan amendment related to PD 31. The rezone occurred in April of 2000 prior to the items you mentioned)  also re-zoned 390+-acres from a uniform Commercial Industrial (CI), to include Campus Commercial (CC) for mixed-use areas.
In 2008, The River Walk mixed-use project Development Agreement (DA)– with single-family and multi-family residential units– included specific Parks and Recreation arrangements. Riverwalk is a PD and is not officially designated a mixed use project under the Town's Mixed Use ordinance. [Editor: the text speaks only to The River Walk's DA and its land-use, not its zoning designation.] Of course, The River Walk is not located in the LBD, but it set a precedent for future mixed-use developments with residential components to consider.
"Whenever we have built apartments in Flower Mound, the town has gotten something beneficial in return," said Mayor Tom Hayden. "For example, when the 1250 apartment units were approved at The River Walk, basically the tradeoff was a hospital would be built."
In 2013, the Master Plan (MP) was amended to allow retail, office and "limited" residential under the CC zoning as an incentive to support office and commercial development. The intent was to create a vibrant area encouraging dynamic economic development by providing live-work-play urban-style opportunities.
"At Lakeside DFW, as that was approved, there was an abundance of Commercial [square-feet] built into the agreement," added Hayden. "And, as that has turned out, we have a nice movie theater, shops, restaurants, etc."
This is an incorrect statement by the Mayor. As a council member, I oversaw the Lakeside DFW project and am very familiar with the structure of that development. In fact, this project was only required to build approximately 40,000 square feet of commercial (the ground floor retail space in the first four residential buildings) in order to receive entitlements for approximately 2,200 residential units. There were plans for more commercial but none of it was guaranteed. The major commercial component that has been built since the initial construction is the movie theater which was made possible through an incentive agreement with the Town. The Town can be very proud of what it has achieved and continues to achieve with Lakeside DFW. It serves as a model of how to structure these projects correctly.
 A similar arrangement is being proposed for the Point that is consistent with  its size and unique property constraints. The Mayor failed to mention this in his conversations with the CTG.
In the October workshop, Stephenson emphasized The Point's fulfillment of the town's recent guidelines for a Class A office development focused along FM 2499; limited large parking areas/fields along FM 2499; and, designs that incorporate a walkable area with open-spaces, gathering spots, plus linkage to environmental amenities.
She pointed out that the biggest obstacle for any Class A office facilities is the employee hiring pool; the number of professionals available to fill the mid- to upper-management positions. That means developing the living accommodations, which attracts that employment pool.
"There are 577 apartments proposed, which encompass a large section of the land and then along 2499 there is a hotel and some office buildings, if they are ever built," said Hayden. He added that Stephenson had stated that it will most likely be five years before an office building will break ground.
The proposed DA points to our intent to work with the Town to encourage this within 18 months.
"As I have followed the string of emails back and forth between the applicant and the town staff, the applicant has refused 'triggers' to be inserted into the Development Agreement that would guarantee the offices will be built," he said. "The town staff has asked for a minimum of approximately 85,000-square-feet of Commercial (Office, Hotel and/or Retail). The applicant last week proposed 75,000 square-feet of commercial and then withdrew that proposal; neither one is enough."
This was done to enable us to work with the Town staff on the DA that is currently proposed. This is clearly stated in the email referenced by the Mayor.
Hayden added that he believes the commercial space presented to the Parks Board and P&Z was misleading.
The concept plan for the planned commercial equals the following: 55,000-square-feet for the proposed Tru Hotel; one office building would be 40,000-square-feet (20,000-square-feet each of retail and office); and, the other office on the corner is 47,300 square-feet.
Ranges of commercial space were presented to the boards based on the concept plan and the proposed zoning.
"In public meetings, the applicant has said 300,000-square-feet of commercial; this only adds up to less than half that amount," said Hayden. "If you recall when we discussing the Development Agreement, they weren't even confident enough to guarantee 85,000-square-feet of total commercial. This relates to commitments over a two-year period not the life of the project. This statement does not reflect the proposed DA. Contrast this with over 700,000-suare-feet of residential."
The Mayor may not realize he supported a similar or higher ratio for Lakeside DFW when it was entitled. The Mayor also appears to support the new Lakeside DFW Villages project which will likely have a similar or greater residential ratio as it includes a request for almost 900 apartments and condos. The Lakeside Villages property is almost exactly the same size as The Point property. During a recent Town Council workshop, Realty Capital, the developer of that project, asked that the Town place no requirements for commercial on that project and stated that the project would likely not be built out for at least 10 years.
This proportion concern was also a factor leading P&Z Commissioner Laile Neal to vote against the project, saying: "This feels like Campus Residential, not Campus Commercial."
Comparisons of residential square footage to commercial square footage are comparing apples and oranges and this was discussed with P&Z. Neal was the lone no vote.
During the October workshop, Stephenson said that the wording of the Planned Development (PD) and Development Agreement (DA) phasing will guarantee the staging of the development construction.
The first component will be the green space, the pedestrian features, the first 350-multi-family units; then the hotel must be complete and open, before any additional residential units will be built. She added that some sewer infrastructure improvement worth $500,000 at the southern section is being done initially.
Hayden questioned the need to build 577 residential units to attract Class A Office.
"The State Farm headquarters setting is often cited as an example [of a work-live-play project]," he said. "Perhaps, but its location at the intersection of the George Bush Freeway and U.S. 75 [is also a reason].
State Farm selected that location in large part due to the 3,600 residential units that had been zoned on the property. The then owner of that property discussed this during the P&Z public hearing for The Point. 
Regardless, within a two-mile radius of 'The Point' (the two-mile radius includes Lewisville, Grapevine as well as Flower Mound. The Point is proposing a walkable environment demanded by Corporate Office users. As stated at the P&Z meeting, none of the existing units are within walkable distance to The Point.) there are already almost 5,000 apartment units. Are 600 more apartments really going to make a difference in attracting office to Lakeside?"
Several speakers during the public hearing at Planning and Zoning agreed that the high quality residential being proposed would be beneficial.
Hayden also referred back to the PD zoning designation– rather than the Mixed-Use District Ordinance zoning– regarding residential land use.
Since the MU ordinance park standards were adopted in 2012, both Lakeside DFW and Southgate (a PD in Lakeside Business District) adopted alternative park standards which were accepted by both P&Z and Town Council. The Lakeside Business District Area Plan contains all of the same land use designations as the MU district does, making it unnecessary to utilize the MU ordinance. According to the Town Manager, using the MU ordinance would make no difference in the process used for determining park fees. (I can supply an email that supports this statement).
"The Park Dedication Fees the Town requires for a high-density [residential] project [which would be used for this] formula, requires the applicant to pay somewhere between $7 and $8 million dollars in Park Dedication fees," said Hayden. "This is what the Park Board recommended. The applicant asked for the fees to be reduced to several hundred thousand dollars [based on the mixed-use formula}."
Statements made by the Mayor are put into context by the statements from the Parks board members you mention. They generally expressed confusion over the process and their role in it. The Council instructed staff to fix this issue in September. That process was slow to start and P&Z tabled the issue in December because they did not believe staff had done sufficent analysis in part to provide certainty for developments like The Point.
"We've never had a third 'or' before," said Parks Board Chairman Gloria Jones. "It's always been either land or money [for residential PDs]."
Park Board member Rick Kenyon said it would be premature of the advisory Park Board to make a recommendation to P&Z or Town Council, until they tell Board members what the zoning policy is for the project.
"I feel like this is an apartment complex and I'm still confused what this is [as determined] by the P&Z and Town Council," he said. The fact that The Point's zoning was still under PD-31 when the Park Board reviewed  it on Dec. 7 required a recommendation based on the available residential land or money options available.
"As I have watched the process for this development, it has really bothered me," said Hayden.
He said that during the Parks Board meeting, the applicant stated the sales tax collections generated by this one development would be $800,000-a-year in 4B park fees; the one-quarter of one-percent in sales tax revenue that the Town generates for its parks.
"Currently, the town receives approximately $3 million a year in Park Revenue from sales tax," said Hayden. "For this one project to generate $800,000 a year in sales tax revenue, the gross annual sales would have to be approximately $320 million a year. To put that in perspective, an average Walmart has sales of $80 to $100 million a year. This project would have to have annual sales equivalent to at least three Walmart Super Centers to generate $800,000 a year for our parks."
Since the first phase of development for this project doesn't include commercial space– except from the hotel and 24 commercial-ready units that will be residents initially, but may transition into future small retail or office use– it begs the question of what will generate 4b sales tax revenue.
The estimated sales tax revenue generated by the new residents of The Point is very conservatively estimated to be $200,000 per year. This was an error that was made at the Parks Board and only at the Parks Board.
Among Hayden's list of concerns is also the Tru Hotel brand proposed by Hilton Hotels.
"When this brand was introduced in 2016, Hilton stated this brand was being introduced to compete with La Quinta and Comfort Inn," he said. "On Hilton's website, they describe the Tru brand as a hotel grounded in value and a back-to-basics experience. I met with representatives of Hilton and they affirmed the Tru Brand was one of their lower-end brands. When asked why Flower Mound was getting a lower-end brand they said we [Flower Mound] are an untested market, and the better brands with a higher level of amenities were going to Grapevine."
Hilton representatives stated they are excited about the Flower Mound market and look forward to a long relationship with the Town. When Hayden asked about a luxury hotel with large convention facilities, Hayden was told that, currently, if something like that were to be planned it would go to Grapevine but that may change in the future. There were other council members that attended the meeting. 
Hayden personally visited the completed Oklahoma City Tru Hotel and took some pictures to share.
"Flower Mound can only support a handful of hotels," he said. "I'm troubled we would settle for something considered leftovers and a budget hotel."
Scott Tarwater, developer of Flower Mound's first hotel, the Courtyard by Marriott at The River Walk, as well as the future Unscripted Hotel in Lakeside Crossing, just south of Lakeside DFW on the western side of FM 2499, also voiced concern during the Dec. 11 P&Z meeting.
"Hilton offers 13 levels of products and Hilton Tru is a very limited product," he said.
Granted, Tarwater has a vested interest with the impact another hotel could have on his future Unscripted Hotel, (there is only one Unscripted open in the country. It has been open for a less than a year and is not associated with a major hotel brand. It is not affiliated with any major travel rewards program which may lessen it's appeal to business travelers.  The rates for Unscripted and the Tru visited by the Mayor, were in fact listed as nearly the same on popular travel sites last Tuesday.)  but two magazine articles:
http://www.dailymail.co.uk/news/article-3415256/Hilton-launches-new-budget-hotel-chain-aimed-young-guests.html?ito=email_share_article-masthead and https://www.usatoday.com/story/travel/hotels/2016/01/25/hilton-tru-new-hotel-brand/79185810/ confirm the Tru Brand to be a low-end Hilton Hotel.
Hilton's "low-end" starts at a midscale hotel. Low-end typically describes a budget level hotel (similar to a Motel 6). This is a market that Hilton does not compete in. Hilton and the industry describes Tru as a mid-scale. These articles predate Tru's formal opening. Articles since Tru's launch point to Tru's superior industry performance, better than expected rate performance and broad customer satisfaction with the brand. Tru's launch is the most successful in industry history capturing over two thirds of the total midscale hotel pipeline.
Hayden's vocal assessment of his concerns led to some behind-the-scenes reactions.
On Nov. 2, following the Oct. 23 workshop, Town Attorney Bryn D. Meredith sent the following email to Hayden and Town Council members:
"As additional background to this public information request, please note that I received a call from an attorney indicating that the request was filed by his office on behalf of the applicant for The Point development. He indicated that his client objects to the Mayor's public stance in opposition to their development. He further indicated that the request for information was to ascertain whether the Mayor's communications regarding their application may implicate his client's due process rights, which suggests to me that he believes it may be actionable. Finally, he asked that I communicate his client's request that the Mayor cease his public opposition to the project. I have spoken to the Mayor about this matter directly.
My office will be assisting the Town Secretary's Office in responding to the request."
This PIR was prompted by several noteworthy items that came to our team's attention including deceptive social media posts and other deceptive electronic communications to residents and other issues that were arising at the time.
"I think it is important our residents know the applicant of this project decided it was a good strategy to threaten to sue myself, the mayor of our town, if I continued to speak to our residents about this project," said Hayden. "I think it is really stunning that someone would believe suing the mayor of the town for communicating with residents is a credible strategy."
The purpose of the PIR was to gain clarity. No further action was implied. It should be noted that in one text message sent by the Mayor(supplied by a staff member, not the Mayor) the Mayor appears to threaten a member of staff for providing information on the history of the Parks Ordinance in a public meeting about The Point. Hayden stated that if the information was given again, "…there would be blood."
In addition, a public email [Editor: all public town documents are available by submitting a PIR to the Town Secretary's office] by Town Manager Jimmy Stathatos– sent to Stephenson on Nov. 30, outlining concerns regarding The Point project– reads as follows:
Printing this email in its entirety without context is intended to be inflammatory. [Editor: The Cross Timbers Gazette's only intention is to share information with its readers. The attempt to assign any other intention is incorrect.] 
The context is that a meeting had been canceled minutes before it was supposed to start because staff had forgotten to invite the Town Manager.
"What items that we discussed are you being held up on (by me meeting with you guys)?
I informed staff that I want to be made aware of any meeting on your project, and that, if available, I would make plans to attend. There are multiple reasons for this request.
First, my job is to oversee the day-to-day operations how I see fit. I am a little taken aback that you're questioning how I execute those duties. Regardless, I'll indulge.
Second, your law firm did a PIR for correspondence on this project. I interpret that as potential litigation. Therefore, I want to make sure that I'm aware of all of the meetings so I can minimize and/or be aware of the Town's legal exposure.
Third, you have continuously invited elected officials to meetings. As you know from your time on Council, it's critical to make sure that all elected officials have access to the same information.
You shared your displeasure with not being privy to information by my predecessor (when you were on Council). If I'm not at the meeting, how can I let the rest of the elected officials that you didn't invite know what happened?
Fourth, the amount of factual discrepancies involving this project, far exceeds any other project that I've been involved with in my 20+ year career. It's unsettling when inaccurate information is shared with elected officials and I haven't been privy to the actual proceedings. This was also evident during one of the recent meetings in which you had a different recollection of discussions with the Planning staff.
Again, if I'm there, it's easier for me to inform my bosses about the accuracy of the information that they may be informed of by a third party. I don't see how this quality control, so to speak, is a bad thing. If my bosses are going to be informed about meeting proceedings, why wouldn't you want me to be there?
Again, we never have these types of problems with any other projects. If there are issues that we, as a staff, need to resolve, we'll definitely do it. I just want to make sure that the whole story is being conveyed (especially when there's a chance of litigation).
Finally, your past comment about a staffing decision, as well as your desire to coach employees on what to say/write for projects, makes me feel the need to shield employees. Again, this hasn't happened before.
I'm able to meet with you and staff today, so I don't see how that's delaying your efforts. Therefore, I don't see how my presence has any negative impact on your ability to complete the project. Further, my request to be involved with meetings was made almost a month ago. The fact that you're just now hearing about it illustrates that it's not impacting your ability to complete your project.
You and I both have a job to do. I assure you, my presence at meetings will not impact the timing and/or schedule of your project."
No statement was ever made that the Town Manager's presence was disruptive. The question was asked why this occurred and how long the rule had been in place. A concern was expressed that this was creating delays as the Town Manager is understandably busy. In fact the meeting in question could not be rescheduled until the next week. Had I been told about the Town Manager's policy, I would have copied him on every meeting request and avoided an unnecessary delay.
Regarding the other statements by the Town Manager, in Flower Mound it is common for Council Members to attend meetings about or discuss items with staff that they are particularly interested in. In fact, this is a practice the Mayor has regularly engaged in over his time on council. If the Town Manager wants to change this practice, it is an issue between him and the Council.
The Town Manager and I have disagreed on process and the context of several statements over the course of the project. Issues like this are not unusual when working on complex projects in any environment.
The Point is an agenda item on the Town Council's Dec. 18 meeting.