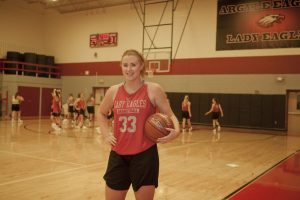 Gabby Standifer is one of the best high school basketball players in the state. This season, her team is going to need her to show people why.
The Argyle girls basketball team is coming off a State Championship season in 2016-17, in which Standifer was a first-team All-State selection and was selected to the All-State tournament team.
Coach Chance Westmoreland said that Standifer's experience will be invaluable this season, especially because the Lady Eagles are not as experienced as they have been in year's past.
"Gabby brings a lot of veteran leadership to our team," Westmoreland said. "We have a young team this season, but Gabby has started since she was a freshman; and, has played in a lot of important games throughout her career.
"I think her playoff experience will be very beneficial to this team, as we navigate through the season. Gabby is also a versatile player and one of the top players in the area, regardless of classification."
Standifer said that last year's team was extremely talented and last season was special. She added that there is something about this team that makes her optimistic about the chances of getting back to state.
"Being part of a State Championship team and knowing that all of us were on the same page on getting back to San Antonio was so important," Standifer said. "We lost a lot of starters and height from last season, but our team chemistry and bond is stronger this year then it has ever been."
Standifer averaged 16-points per game through her first three contests of the season and said that this year, she has a number of objectives.
"My expectations for myself this year are to always be the hardest working and toughest player on the court," Standifer said. "If I do that, then the results should take care of themselves. My expectations for the team are for us to play tough, never back down, play smart and together and make it to State."
If Argyle reaches State again this season, it would have the opportunity to win a fourth consecutive State Championship; and, Standifer has been a big part of that streak.
The Argyle senior was selected the UIL 4A State-Tournament MVP in 2016 and has been selected to the All-State team every year of her high school career.
Westmoreland said Standifer is one of the most talented players he has coached and said he has some expectations of his own for her in 2017-18.
"My goal for Gabby this season is to be the 4A Player of the Year and help lead us back to San Antonio," Westmoreland said. "I think she has the leadership, skill set and work ethic to be one of the top players in the state."
Standifer is headed to Fresno State to play basketball in college and said she chose the university for a couple of reasons.
"I decided to go to Fresno state because of the head coach, the players she recruits, the facilities they have for the athletes, the competitive atmosphere, fan support and the winning tradition," Standifer said.
Fresno State made NCAA Tournament appearances every year from 2008-2014 and have won at least 20 games in 11 of the last 13 seasons.
Standifer said her favorite athlete is Larry Bird and her favorite food is mom's lasagna.