A conservative Frisco businesswoman will challenge U.S. Rep. Michael Burgess in the Republican Primary to represent the local area in the U.S. House of Representatives.
Veronica Birkenstock has filed to run Texas Congressional District 26 in the Republican Primary on March 6, 2018. Birkenstock, believed to be the first woman to file for the Republican Primary in the history of the district, will be running to unseat Michael Burgess, a Republican incumbent who is seeking to hold that seat for at least 18 years.
Known as "V" by her friends, Birkenstock is running under the tagline, "Right for Texas — Bad for the Swamp." She didn't intend to run for public office, but Birkenstock has grown "frustrated with the current long-term Representative not getting the job done as promised," said a news release.
"Today, the people in our district now have someone who they can depend upon who actually has a record of accomplishment in D.C. and will drain the swamp as opposed to getting stuck and doing little to nothing," Birkenstock said in a prepared statement.
Birkenstock is the owner of Practical Employee Solutions, which she founded in Texas in 1986, according to the news release. The company provides legal temporary labor which helps to support American businesses and other American jobs. It is located in Frisco, where she lives with her family and attends Elevate
As an early supporter of President Trump in Texas, she has raised over $350,000 and worked to get out the vote by making calls and knocking on doors in Texas, Colorado, and North Carolina, the news release said. Birkenstock is "committed to President Trump's 'America First' agenda and eager to get that legislation on his desk."
"I am looking forward to public debates with our current Congressman before the election." Birkenstock said in a prepared statement. "I will meet him anywhere and anytime in the district. Our constituents have the right to ask us both tough questions to determine if sending the same person back to serve 18 years is going to yield different results or do they want someone who actually has a track record of delivering results to represent them as their voice and support the Trump agenda."
Birkenstock is gaining significant support from across the district from Trump supporters and grass roots activists who are quick to identify with and support her, the news release said.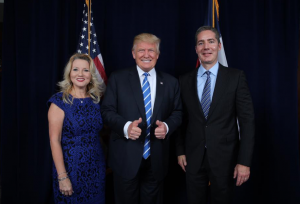 "It's time for bold new leadership to fight for our district and Veronica Birkenstock is that leader," said Shirley Spellerberg, former Mayor of Corinth and Denton County Republican Party Precinct Chair. "Time for Congressman Burgess to come home."
Lisa Hendrickson, former Chair for the Denton County Republican Party, said she was "thrilled beyond words" when she heard Birkenstock wanted to run for the seat and is now the executive director of the campaign.
"We need to have someone in office who is a fighter and Veronica is that fighter that never takes no for answer," Hendrickson said in a prepared statement. "It is time to clean out the tarpit of Washington D.C., which is filled with career politicians, and instead send businessmen and women that have not lost sight of making payroll and living under the laws of the land."
Texas Congressional District 26 is one of the faster growing districts in the country and encompasses most of Denton County and a portion of Northeast Tarrant County.
Click here for more information about Birkenstock's campaign.