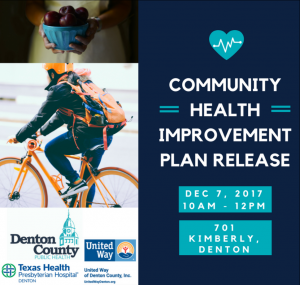 Denton County Public Health announced Wednesday the release of the 2018 – 2020 Community Health Improvement Plan, which serves as a three-year plan for Denton County to address areas of health concern.
Goals and objectives for health improvement within each area of health concern have been created based on community feedback to target efforts that promote health, according to a county news release. The CHIP is designed for use by community partners, agencies and residents to strategically establish priorities, coordinate interventions and develop policies that reflect areas of health concern for our colleagues, neighbors and family.
"Through the robust engagement of community members and agency partners, the CHIP will serve as a guidepost for our future work in leading our communities to a healthier future," said Matt Richardson, Director of Public Health, in a prepared statement.
CHIP goals and objectives center around the following areas of health concern:
Access to Care
Behavioral Health
Education and Prevention
Exercise, Weight and Nutrition
Health Outcomes: Chronic Disease
DCPH invites residents and stakeholders to attend the CHIP Release and Review meeting on Thursday to learn more about community goals and next steps to a healthier community. The meeting will be from 10 a.m. to noon at the Denton County Elections/Technology Services Building, 701 Kimberly Drive in Denton.
Click here to view the full 2018 – 2020 Community Health Improvement Plan and provide feedback on it in a survey.