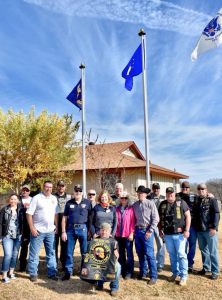 A local therapy and counseling center held a grand opening over the weekend for its new veterans center in honor of Chris Kyle, the American Sniper.
The Victory Therapy Center, which provides equestrian-assisted therapy in southwest Flower Mound, had an unused building on its property when Stephanie Melchert-Smith become its CEO and executive director in 2015, and "it felt like a building was going to waste."
Victory Therapy provides counseling and therapy services for people with disabilities, first responders and veterans, and Melchert-Smith wanted to use the building to improve those services. Now, it is a "place for them to come to feel safe."
The new veterans center provides space for peer support groups, a computer lab, a workout room, a movie room, an expressive art room, a reading room and more, Melchert-Smith said. Computer classes, art classes and free books and magazine will be offered.
When Melchert-Smith was beginning to work on the veterans center, she came into contact with Wayne and Deby Kyle, the parents of Chris Kyle, a Navy SEAL veteran and sniper from Texas who served four tours in the Iraq War and received many awards and commendations for acts of heroism and meritorious. Often called the deadliest sniper in U.S. military history, Kyle published his autobiography, American Sniper, which inspired the 2014 movie of the same name. Kyle and his friend, Chad Littlefield, were fatally shot at at a remote Texas rifle range Kyle helped design.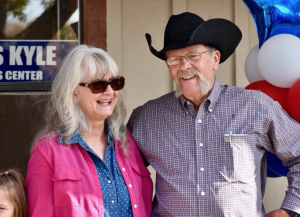 "It made perfect sense" to name the new veterans center in Kyle's honor, Melchert-Smith said.
"He lost his life helping veterans trying to make it through this world after combat, serving those who served," she said. "That's a big part of what we want to do."
Victory Therapy Center hosted a ribbon-cutting for the opening of the Chris Kyle Veterans Center on Saturday and provided those in attendance with a tour. Deby and Wayne Kyle spoke at the grand opening of the center, which also has a mural portrait of Chris Kyle, painted by the American Fallen Soldiers group.
Click here for more information.