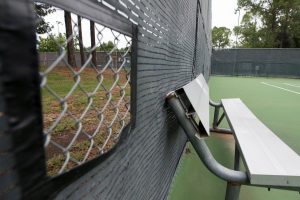 Monday night's Flower Mound Town Council meeting had quite a varied list of agenda items.
Wearing a black T-shirt reading, "Got court?" Mayor Tom Hayden silently signaled his interest in finding a solution to the town's long-overdue tennis facility.
"We've been talking about a tennis facility for 15 years," said Hayden. "It was listed as a priority by residents in the 2002 Master Plan."
An update of the current four tennis facility locations by Chuck Jennings, director of Parks and Recreation, led to the council requesting town staff to investigate additional possible eight- to 12-acre locations for: 12 lighted courts; a facility with a pro-shop, offices, locker rooms and a multipurpose room; and, 96 parking spaces– near major thoroughfares and utilities, and sensitive to existing neighbors.
Two of the locations– Leonard Johns Park (the site of four existing public courts) on Timber Creek and Liberty Elementary on Quail Run– are owned by Lewisville ISD, which does not want to part with either property.
"I contacted LISD last week and they're not interested in selling," said Hayden.
The additional two properties are already owned by the town, but each has substantial site issues.
The Gerault Park site adjacent to the Community Activity Center has only 3.7-acres for the courts– leaving no room for additional parking spaces– and would eliminate the existing multipurpose fields used for athletic and recreational programs. In addition, there's an underground high-pressure aviation fuel line, there would need to be major drainage modifications, plus its proximity to homes is too close.
Finally, the undeveloped Dunham Ranch Recreation Area– southeast of the FM 1171 and Hwy 377 intersection–has no electrical, sewer or potable water hookups and is not centrally located.
Jennings reported that the cost to design and build 12 lighted courts with a facility and 96 parking spaces is $4.3 million, in addition to the cost of the property, for a total of an estimated $6 to $7 million.
Councilman Bryan Webb suggested town staff could look at privately-owned property.
"I wouldn't engage a property owner, but I'd engage Google Earth and take a look around," said Webb. "Then, perhaps in executive session under land acquisition, we get a briefing as to what might be available out there as privately owned. I'm not talking about eminent domain, but if there's some flat dirt out there that is privately owned, I think we probably ought to take a look at it."
The city of Coppell built its Wagon Wheel Tennis Center– which is one of the tennis centers where local Flower Mound Tennis Association (FMTA) members play in league competitions and tournament– in an existing warehouse district, which avoided the problem of impacting residential neighborhoods and helped guarantee access to nearby utilities.
In other words, the city leaders thought outside the "park" box, which led to the creation of a destination park in a non-traditional part of town.
Hayden said he'd like to learn if the residents would be interested in issuing debt attached to the town's sales tax (4B) revenue for the tennis facility by placing it on the May 2018 ballot.
Council approved a professional services agreement and funding to expand the Flower Mound Public Library. The new 40,000 square foot space will provide resources, meeting space and public art display areas.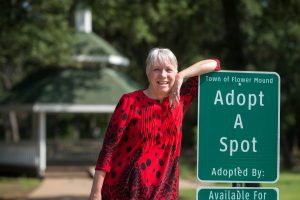 The council also announced the 2017 Outstanding Citizenship Award winners– Marilyn Lawson representing Keep Flower Mound Beautiful (KFMB) was named as the individual winner and the 16 members of The Flower Mound Garden Club were named as the group winner.
Also recognized were the Marcus and Flower Mound High School marching bands for their award-winning performances at the Bands of America Grand National Championship in Indianapolis recently, as well the invitation for the Flower Mound marching band to perform at the Tournament of Roses Parade in Pasadena on New Year's Day.
As a self-proclaimed "proud Flower Mound band parent," Mayor Pro Tem Don McDaniel said that the band booster club will be holding many fundraisers to help reach the approximately $1 million needed to transport and house the band members.
Flower Mound Police Chief Andy Kancel introduced Officer Justin Buck who spoke about the Santa Cops program which started in 2001 and is managed by the Citizen Academy volunteers.
"We helped 342 kids in 2016," said Buck. "If people have the name of a child– up to 18-years-old– who qualifies [for inclusion], they can submit it through this Friday [Dec. 8]. Also, donations can be brought to the big blue box by the Records Department in police headquarters [4150 Kirkpatrick Lane]."