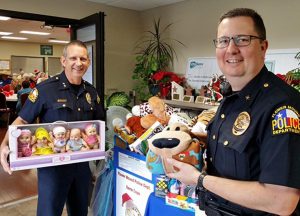 The Flower Mound Police Department has extended its deadline to refer families to benefit from its Santa Cops toy drive.
The department and the Flower Mound Citizen's Police Academy Alumni Association organized the town's annual Santa Cops toy drive, which collects donations and gifts throughout the year and then distributes them at Christmas to children in Flower Mound that might have otherwise not received a gift from Santa," according to the town.
The department announced on social media on Monday that its deadline to nominate a family to receive gifts from Santa Cops has been extended to Friday, Dec. 8. It had originally been set for Monday, Dec. 4. Families must be members of the Flower Mound community. Click here to fill out the form to recommend a family.
The Santa Cops Toy Drive will run through Dec. 13. If you would like to make a monetary or gift card donation, bring those directly to the Police Department. You can also drop off new, unwrapped, non-violent toys at any of the Flower Mound donation sites listed here.