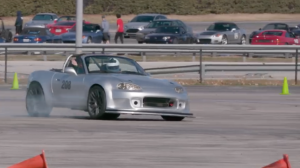 The Flower Mound Police Department wants you to meet one of its patrol officers, who happens to be extremely comfortable behind the wheel.
The department shared a video on social media Monday about Patrol Officer Jason Toth as part of the town's "Meet the Team" video series.
The video shows footage of Toth racing cars through courses as he talks about his love for racing, and his successes on the racetrack.
"I love the interaction between myself and the car when it's right and the car becomes part of me and I can predict what the car does before it happens," he said in the video.
Toth, a 16-year veteran of the department, is an instructor of emergency vehicle operations.
"My time in racing has helped me learn the intricacies of car control, and that allows me to pass that along to my students," Toth said in the video.
https://www.facebook.com/FlowerMoundPoliceDepartment/videos/646440295479551/