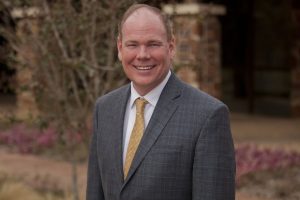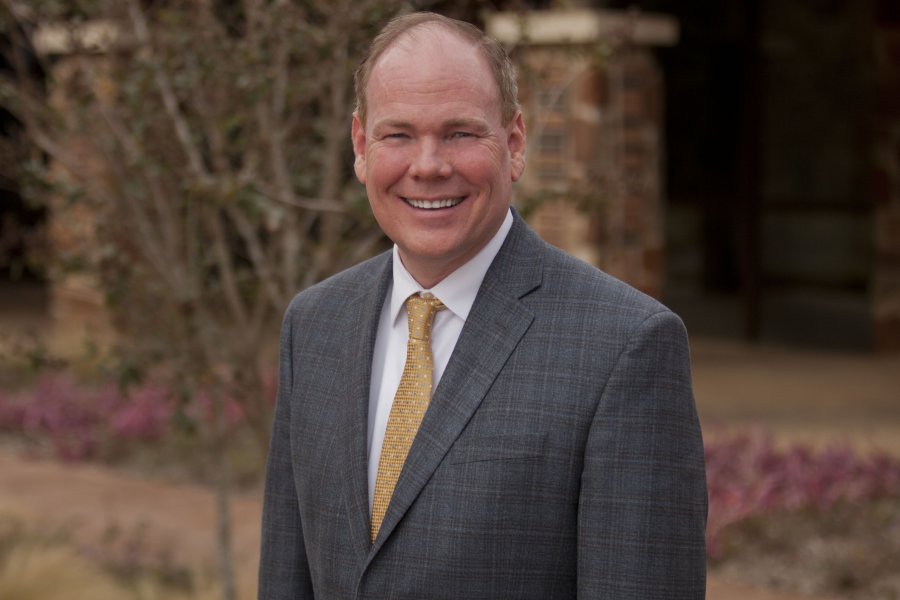 The Eads family have been traveling the roadways of North Texas since the late 1800s. Their German ancestors arrived in Texas through Galveston and traveled to Collin County, before settling in what is now Lake Dallas.
"My great grandfather's wagon [now in the Denton County Courthouse-on-the-Square Museum at 110 W. Hickory Street] was used by him to do trade sales [farmer's market]," said Andy Eads, Denton County Commissioner, Precinct 4. "He'd drive his team and wagon to Denton and sleep under the wagon with what he was selling the next day."
His father was raised in Lewisville and was a Farmers Branch fireman for 32 years.
"Back in the 1970s, it was a schedule of 24-hours on and 48-hours off, and I got to go to the fire station with him," said Eads, who also grew up in Lewisville. "It was okay for kids to spend the night at the fire station. I got to see what service to others meant and that was the start of my love of service. My parents also owned a successful photography business, so I learned about running a small business, too; that's why I've always been involved in the Chamber of Commerce."
Eads confided that early in his career he wanted to be a city manager when he grew up. To that end, after graduating from Liberty Christian School, he received his BBA from Howard Payne University and his Masters of Public Administration from the University of North Texas.
Then, he began his career in public service with a part-time internship and subsequent full-time staffer with the town of Addison, in which he worked in a variety of departments in Town Hall– planning and zoning, budgeting, HR, — as well as a project he'd been given to collect photos of the town for its archives. Some 3,000 pictures later, in addition to oral histories he gathered after meeting with older residents across Texas– some of whom had attics filled with memorabilia– he created a photo-filled book entitled, "Addison, Texas, a Pictorial History."
Eads' decision to leave Addison was emotionally difficult for him, but the town manager's prediction that, "you will use everything you've learned" in his future professional life has proven to be true.
In response to a growing list of supporters, Eads officially announced his candidacy for Denton County Judge on Dec. 2.
Currently serving in his third four-year term as Denton County Commissioner, Precinct 4, Eads, 46, has been directly involved in the county's rapid population growth– especially the communities along the I-35W corridor he represents: Argyle; Bartonville; Copper Canyon; Corral City (Draper); Denton; Dish; Double Oak; Flower Mound; Haslet: Justin; Krum; Lantana; Northlake; Ponder; Roanoke; Southlake; Trophy Club; and Westlake.
"I support those working to encourage Andy Eads to run for County Judge," said retiring Denton County Judge Mary Horn. "Commissioner Eads and I have worked well together and I know he will work hard for the citizens of Denton County. The good folks of Denton County can trust Andy."
Since being elected to her first of four four-year terms in 2002, Horn has seen Denton County become one of the fastest growing counties in the nation, with its population increasing by 65-percent since she took office.
The original functions of county-level government are, "to serve people from 'cradle to grave,' with a broad spectrum of services: from birth, marriage to death certificates; everything related to roads; the jail; bury the paupers; 911 service; oversee elections; provide Ag extension; provide veteran's services with VA; tax collection services; death financial investments; and, probate estates.
"Mobility was– and is– the biggest challenge and accomplishment of being a commissioner," Eads said. "Since starting [as a commissioner in 2007], nearly every state highway within Pct. 4 has been under reconstruction. Back then, transportation had been underfunded for many years, but my first year we began work to replace 11 county bridges that failed inspection and have made life-safety improvements for Denton County– highways 35E, 380, 1171, 407 and 114, plus 156 is under construction and 377 is set to be environmentally cleared in the next couple of years."
Prior to elected office, he was a top-producing agent with RE/MAX DFW, earning the Rookie of the Year Award and was repeatedly voted one of the Best Realtors in DFW by D Magazine.
His real estate background enhanced his hands-on success as a commissioner in promoting economic and tax-base development; to grow jobs (such as Charles Schwab in Westlake, Tanger Outlets and the Target distribution center in Denton County).
"Knowing how to 'court' the site location consultants to locate here has been helped by my history as a realtor," said Eads.
In courting corporate relocations to the county, Eads' priority list begins at the state level: "Oh, you want to locate in Texas, that's great; in North Texas, even better; and, Denton County, that's the best. It means economic growth and jobs. We've been able to keep the tax rate lower, because of the population growth, resulting in new homes and commercial enterprises."
While the population growth has helped manage the annual fiscal budgets demands since his election in 2006, Eads points out, "We welcome the new residents, but they don't bring their roads with them."
He reiterated that county roads are one of the highest priorities for Denton County's elected officials.
"We partnered with the state and communities through bond elections for their roads," Eads said. "Transportation is a 'family-value.' If we can cut their commute time and ease the traffic, you add to their quality of life and give them the gift of time.
"And, especially, it's a safety issue. When you meet a family who's lost family members to a dangerous road at a groundbreaking or ribbon-cutting that fixes it … it's deeply emotional and personal."
He added that the Commissioners Court priorities don't stop at the county line. He sits as a board member on the Regional Transportation Council– 40 elected officials– which oversees funding for the transportation systems in the Metroplex like roads, mass transit, and airport runway extensions.
"It's about partnerships and the spirit of cooperation for the betterment of everyone," said Eads, known as an eternal optimist. "I'm looking forward to serving in a county-wide position; working with other levels of community leaders. I have a municipal background, so I really understand what the challenges are and can appreciate how the staff works and can help the elected leaders."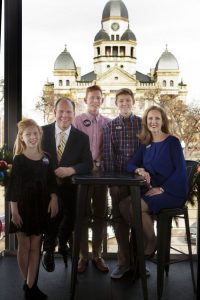 Eads lives in Flower Mound with his wife, Ginger, and their children, Everett, Addison, and Caroline. He enjoys volunteering and camping with his boys' Scout Troop #709. In the past three summers, he's accompanied the troop hiking at Philmont Scout Ranch in New Mexico and Seabase in the Florida Keys.
He's also proud that when she was selling Girl Scout cookies, Caroline was always the top fundraiser and he has no idea how many trips he made to the cookie distribution center.
"One of my favorite things is connecting our nonprofits with those who have resources," said Eads. "Especially anything with kids and mentors." Eads was president of Communities in Schools North Texas, a nonprofit devoted to dropout prevention and fostering mentor relationships in five Denton County school districts. Just this last year, Eads and his wife, Ginger, personally mentored a homeless teen for her senior year of high school. He is also current president of the Lewisville ISD Education Foundation.
Mind you, he doesn't just show up to put in face-time; he's an active member of his many involvements. In fact, he'll see an existing need and work to create a solution.
"One of my favorite charities is Rotary International. The Flower Mound Rotary is a great group that I was active in since 2001 and some of the best people around are in that Club. Their meeting time was difficult for some of us who office out of town so we started a new club, the Cross Timbers Rotary Club." Eads and five others founded the Cross Timbers Rotary Club in August 2015, which meets on Fridays at 8 a.m.
Eads served as the first Cross Timbers Rotary Club president; Ginger Eads is the current vice president.
"At our chartering ceremony, I said: 'We are starting something today that will outlive us,'" remembers Eads.
Within two years, it has become one of the fastest growing Rotary Clubs and was profiled in Rotarian International magazine with 1.2 million readers worldwide.
That's just the tip of Eads organization and charitable iceberg. Floating under the surface is another huge list, including: Board of Directors of United Way of Denton County; President of Denton County Housing Finance Corporation; Representative to Northwest Community Partnership; Board of Directors and Chairman Emeritus of the Flower Mound Chamber of Commerce; past member Denton County Historical Commission and Chairman of its Museums Committee; Denton County Master Plan Committee; Metroport Cities Partnership; and, Trustee of The Mound Foundation in Flower Mound.
Now, add these past affiliations: President, Communities in Schools of North Texas; President, Denton County Historical Park Foundation; President, Flower Mound Rotary Club; President, Denton County Republican Men's Club; Board Member, Greater Lewisville Family YMCA.
The Denton County Judge acts like an elected city or town manager, but for the county. The position is a voting member of the five-person Commissioner's Court and in addition to the administrative duties is the declaration of emergency responses for the county.
Despite the name, the Commissioners Court is not a judicial court but is the general governing body of the county. The court is made up of the County Judge, elected countywide, who is the presiding officer of the court, plus the four County Commissioners.
In addition to the bridges and roadways, the general duties include: set the tax rate and adopt the county budget; appoint officials and hire personnel; fill elective and appointive vacancies; establish voting precincts, appoint precinct judges and call county bond elections; let contracts and authorize payment of all county bills; build, maintain and improve county facilities, including jails; provide for veteran's assistance; manage all county facilities; and, provide for the data service and archival needs of the county.
When asked what his first priority would be should he be elected to serve as Denton County Judge, Eads said: "I'll go on a countywide listening tour to hear from residents and business leaders about how they envision the county growing into the future. I want to learn what people want and need."
Eads says, "Denton County is a great place to live, work, and raise a family." He is eager to work as Denton County Judge to keep it that way.
A primary election will be held on March 6, 2018 prior to the general election date of Nov. 6, 2018.