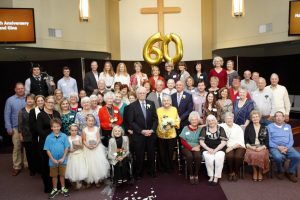 Some couples get married on Valentine's Day, and other couples – like Jim and Gina Baxter – get married on Halloween.
The Baxters recently celebrated their 60th wedding anniversary a little early by renewing their wedding vows in the Flower Mound United Methodist Church. It was the perfect time to celebrate their love as they moved into a new part of their lives together.
During the course of marriage, there are many different chapters a couple must go through: the newlywed stage, building careers, raising families, becoming empty nesters and then retiring. The couple just moved from their lake house on Eagle Mountain Lake to retire at Avanti Senior Living at Flower Mound, and they are enjoying the change of lifestyle which has brought them closer to their family and friends.
"We were both living in Houston when Jim and I were considering marriage," said Gina. "He was waiting on me to make up my mind, and I was being slow and cranky. One night he showed up at my house to tell me he accepted a job in Pittsburg and that I could come with him or stay in Texas. I immediately thought to myself, 'Oh no, I'm going to lose this man!' In that moment I knew just how much he meant to me, and the next day we asked a preacher when he could marry us. The only immediate availability he had was Halloween day, so that's when we got married. We have a fun time celebrating our special day, and we certainly loved renewing our vows. Our daughter was the matron of honor, our two boys were Jim's best men and our oldest friend was the maid of honor. It meant a lot to have everyone there with us."
During the course of the last 60 years, the Baxters moved from Houston to Pittsburgh to Abilene to Seattle to Fort Worth to Azle and most recently to Flower Mound. They agree that over the course of 60 years, it was important to be aligned when making significant decisions and to be supportive of one another through the varying seasons of life. This all began for them when Jim offered her the chance to move to Pittsburg with him.
Since then, the couple has done everything together. Most recently, they were working on a joint art project when they received a visit from Renee Rachels, resident and family advocate for Avanti Senior Living at Flower Mound. Choosing where to spend the remainder of their retirement was their next big step, as Gina was having back issues and liked the idea of being closer to medical specialists, but Jim was hesitant because he was going to miss looking at the lake he's gazed at for the last several decades.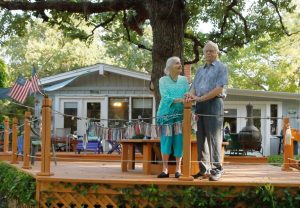 "It was a difficult decision because I knew I was going to miss looking at the lake every day, but Renee came up with a really nice idea," said Jim. "Renee hired a photographer to capture pictures of the lake and our property, then she had them blown up on canvas so I could still look at my lake every day while sitting in my favorite chair. In addition, we were able to bring all our large artwork from home, so our apartment suite genuinely feels like a Baxter residence. Now I can also visit my daughter more often, as she works from home. Everyone in Flower Mound is nice, and other residents at Avanti seem to really enjoy the happy hour. It's an opportunistic time to socialize, and we have made several friends so far, the closest being another couple that lives here."
"We moved into Avanti a few weeks ago on my birthday," said Gina. "Since then, I've developed a reputation as the hat lady, because I have more than 200 hats and wild sunglasses that I sometimes pair with them. I wear a new hat to dinner every night, and everyone seems to love it. My daughter Amy is bringing me 70 more hats from our lake house at Eagle Mountain Lake later this month. While we moved into Avanti, we decided to keep the family home as we plan to pass it down to our children and grandchildren. Our son is moving in to maintain upkeep on it. While I'm doing well as the 'hat lady,' I was worried Jim wouldn't have many males to interact with, seeing as women tend to outlive men and make up a majority of senior living community residents. However, we were pleasantly surprised when we realized six other men were scheduled to move in at the same time we were. We try to meet new people at dinner and strike up conversations. One night, Jim met a darling lady who grew up and went to the same school as him. Everyone has a story and every story has a surprise."
The Baxters agree that Flower Mound is a sharp community with marvelous medical options, along with a plethora of restaurants to choose from. The couple picks a new restaurant in the city to try out each week. A fellow resident takes up two rooms so she could bring her grand piano with her, and the Baxters enjoy listening to her play music and sing as they walk down the hall. Jim is passionate about singing, playing the guitar, reading, spending time with family and traveling. Gina also values family time and traveling, and she spends a lot of her time gardening. She is looking forward to putting in some new bulbs outside of their window. Jim spent most of his life as a psychologist and Gina taught primary school children. Now the two are happily retired and exploring new interests, like learning how to use an iPad and playing Words with Friends.
"Our daughter Amy lives in Flower Mound, and Azle was an hour and fifteen minutes away from her one way, so we didn't see each as often as we wanted," said Gina. "Even though we lived in the Azle house for decades, having raised our children and built a life together there, we decided we wanted be closer to our children and grandchildren. As soon as we moved in, Amy and her roommate went to the store to purchase new bedspreads and decorations. Amy just adores it and says she could live here. We've already hosted a dinner party at the community, as they have an eight-person dining table which can be reserved for special occasions. There are so many different spaces and nooks throughout the community, we have plenty of areas to choose from when entertaining guests. We still live to invite people to our home, and this is spacious and welcoming for those who visit."
"The Baxters are such a fun couple, and we love having them at our community," said Rachels. "The suites have been filling up since our opening, and we've enjoyed getting to know everyone who has moved into the community. With the holidays coming up, we are looking forward to starting new traditions and creating new memories in a place that feels magical and welcoming. We may be new, but we have a lot of amazing things planned that are on the horizon."
Avanti Senior Living owns, develops and operates senior living communities. Avanti launched in 2013 with a commitment to redefining senior housing through forward-thinking design, inspiring and innovative culture and state-of-the-art technology. The company is based in The Woodlands, Texas. CEO Tim Hekker and COO Lori Juneau-Alford founded the company with their combined 50-plus years of experience. Avanti's vision focuses on creating a culture that emphasizes personal choice and control to preserve resident dignity while delivering world-class care, support and inspirational experiences.
Their vision is to fundamentally redefine the customer service experience for assisted living and memory care by providing a quality of life that embraces a holistic lifestyle filled with choice. Each Avanti community features resort-style activities and entertainment options boasting a stylish design, beautiful themed courtyards, a true art studio, an exercise room with a ballet bar, a theater area, a full-service salon and spa, a nail bar and hair services as well as multiple destination locations.