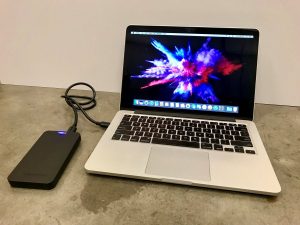 by Chris Cole, Experimac Highland Village
Priceless family photos, irreplaceable projects or a complete iTunes library would be painful to lose. What would you do if your Mac computer was stolen or damaged and you lost these files? Spare yourself the heartache and invest some time and money in a backup option that will protect the files you need, no matter what. Here are our top tips on what you need to know when backing up your data on your Mac:
Time Machine
This is Apple's built-in backup feature for Mac OS X. It is a built in backup application that keeps up-to-date copies of your files on a hard drive destination in order to restore them at a later time. It requires an external drive that is connected to a Thunderbolt, FireWire or USB port on your computer.
Cloning
Should something happen to your Mac, having a clone of your entire system is a very desirable option. Thankfully, OS X has a built in option for creating cloned images of your computer's drive called Disk Utility. You can also purchase third party software to clone your drive.
Cloud Storage
Whether using iCloud or another cloud service provider, utilizing cloud storage is a great way to back up your Mac computer. With a cloud service, your files are safe regardless of what happens to your computer. The only major downsides to cloud storage options are the amount of time it can take to complete a backup, restore a full system, and the potential cost for sufficient space.
Backup Your Backup
The best way to ensure your files are safe is to not rely on only one back up method. Whether you want to use a Cloud and Time Machine, or the Bootable Backup and an offsite hard drive, it's important to be prepared for the worst. By providing yourself with several easy backup methods you can be consistent with, you are ensuring the safety of your files as well as your peace of mind.
Come visit us as Experimac Highland Village and we can assist you in backing up your computer, or mobile device. We also buy, sell, trade and repair pre-owned Apple products.  Located in The Shops at Highland Village, 4141 Waller Creek, Suite 160. Call 972-317-0978.