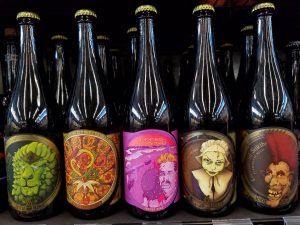 by David Ellerbe
Today, you can find a wealth of great beers from Texas breweries in local taphouses and even grocery stores. Delicious IPAs, pale ales, red ales, kölsches, witbiers, porters and stouts abound.  But if you're looking for unique beers and a destination brewery, head to Jester King Brewery, about 30 minutes (18 miles) due west of downtown Austin. Started in 2010, Jester King's facility has grown from four acres to 200 acres in the Texas Hill Country near Dripping Springs.
Jester King is a "farmhouse brewery," a rustic style steeped in early Belgian and French traditions that produced beers for farm workers from ingredients cultivated or occurring naturally on the farm. The style ties the beer to its birthplace.
For Jester King, that means mineral-rich Hill Country well water, local grains and fruits, and – supremely important – a mixture of wild yeast gathered onsite (instead of single-strain yeast purchased from a commercial propagator) and pitched into the wort for fermentation.
Jester King also makes 100% spontaneously fermented beer, a magical process where the wort is pumped into an open-air coolship (wide, flat vessels, traditionally made of copper or iron) and left to cool overnight.  When the temperature is cool enough, the brewery throws open its windows to allow wild, air-borne yeast to settle on the coolship and start fermentation. This is an centuries-old method, and a bit dicey because the brewer has no control over this critical phase. It's great to see a Texas brewer use this technique (with excellent results, in their first effort and later fruity iterations), paying homage to the masters at Cantillon in Brussels, who've been using it to make lambics (ancient Belgian beer) since 1900.
Generally, a farmhouse beer is funky, refreshing, dry, crisp, tart, and often fruity. Yet, the style can produce a wide range of flavors and potency. The diversity was evident in the ten beers Jester King had available for tasting on our visit in mid-August.
The 2017 edition of Hibernal Dichotomous is a farmhouse ale (5.8% ABV) with grapefruit zest, rosemary and chiles. Synthesis Analogous (6.7% ABV), a farmhouse ale, has raspberries and blackberries and is aged in sherry barrels, which imparts a subtle flavor. Both of these are crisp, light and refreshing, with a fruity and slightly sour flavor. RU55 (6.2% ABV) ratchets things up a bit. It's a barrel-aged sour red ale, reddish-brown color, sour and fruity but maltier and richer than the first two. Boxer's Revenge (9.5% ABV) is a sour barrel-aged strong ale; it was tart, citrusy and floral with hints of peach and honeysuckle.  Finally, Cherry Funk Metal (9.5% ABV) was a barrel-aged sour stout refermented with Balaton cherries. It was a farmhouse bomb:  dark, full-bodied and lots of cherry aroma and taste start to finish. These are just a few of Jester King's fantastic creations. They have many other beers and uniquely artistic bottle labels designed by a full-time artist.
Jester King is small, producing only about 1,500 barrels (46,500 gallons) annually. (By comparison, the world-renowned Hill Farmstead, a farmhouse brewery  in Vermont, produces almost 5,000 barrels). So its beer can be hard to find.  I've seen some at Central Market, Whole Foods, and various taphouses. The best place to taste and find it is at the brewery, where picnic tables are scattered under the trees and tucked under their shaded porch. While you're there, take the free brewery tour, only about 30 minutes. Order a wood-fired pizza next door at Stanley's Farmhouse Pizza to enjoy with your beer. You can buy bottles of several Jester King brews to take with you, and they also sell a wide selection of bottled beers and ciders from other brewers, domestic and foreign. Jester King is a real treasure and we're lucky to have them in Texas.
You can contact me at d[email protected].