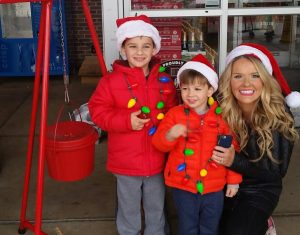 In addition to Santa Claus and the multitude of brightly colored lights, nothing reminds us of the holidays quite like volunteers standing by iconic red kettles, ringing bells for The Salvation Army's Red Kettle Campaign.
This year's Red Kettle Campaign efforts in southern Denton County kicked-off on Monday, Nov. 13, at 30 major area retail outlets, including multiple locations of Walmart, Kroger, Tom Thumb, Market Street, Sam's Club and Hobby Lobby stores in Flower Mound, Highland Village, Lewisville and The Colony.
To fill all time slots from now until Dec. 24 requires 3,600 shifts of three-hours each. Stephen Thomas, executive director of Social Services for Denton County, encourages individuals, families, organizations and even businesses to consider signing-up.
The Red Kettle Campaign provides more than 20-percent of The Salvation Army's annual operational budget and donations are used for community programs, including: feeding the homeless and those in need; distributing clothing and hygiene items; providing developmental and equipping programs; and, responding to local and national disasters.
"It's the community supporting us that makes it successful," Thomas said.
The Salvation Army helps people in nursing homes, low income households, the homeless and others with a food pantry, community hot lunch program, clothing assistance, employment assistance and a community organic garden.
An "army" of three dedicated staff members – one full and two part-time– and more than 260 volunteers help more than 200 people each day through its service center in Old Town Lewisville.
"We identify the true needs of the community and how we can best serve them," Thomas explained.
For more information, visit: www.salvationarmydfw.org/p/locations/lewisville, plus volunteers can sign-up for shifts on Sign-Up Genius which can be accessed from The Salvation Army's Facebook page (@SalvationArmyLewisville).