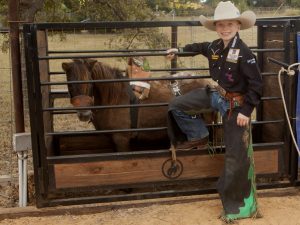 Argyle's nine-year-old Lealond Henderson, whose nickname is Lelo, got into the rodeo business just before his third birthday.
"Actually, Lelo got into rodeo by accident," Mom Deborah said.  "We went for fun and thought he might get a charge out of riding a sheep. For the fun of it he rode a sheep at the North Texas Fair in Denton, got a face full of dirt, but loved the experience."
One time and he was hooked.
Thereafter, he practiced on a sheep in the small corral beside the family home.  At age six he retired as the fair's Champion Mutton-Buster.
"Bronc riding is in the Henderson blood," Dad Jimmy said.  "My family has been ranching up near Amarillo for a long time, and breaking horses to saddles is part of the business."
Jimmy looks like he could easily hold his own on a football field, but he went through college on a rodeo scholarship.
Rodeo events all use animals unaccustomed to a saddle or a rider; hence, the natural bucking and kicking behavior.
Today's events were born in the late 1860s among cowboys on horseback, who drove herds across the western ranges.  The sport started as an entertaining form of, "I can do anything you can do, better" in a "cowtown" at the end of a successful cattle drive.
Railroads and fences ended the era. In 1887, the first paid spectator rodeo was held in Denver. The Rodeo Association of America came into being in 1929 to regulate the sport.  The rules of its current successor, the Professional Rodeo Cowboys Association (PRCA), are accepted by most rodeos large and small, including the National Intercollegiate Rodeo Association and the National High School Rodeo Association.
The most famous rodeos today include the Pendleton Round-Up (in Oregon), the Calgary Stampede (in Canada), Cheyenne Frontier Days (in Wyoming) and the Days of '47 (in Salt Lake City)– in which Lelo had the privilege of participating.
"When today's budding cowboys outgrow sheep, they move to the next level," said Jimmy.
The next level means taking on calves and mini-horses.  Mini-horses?  Those are specially-bred, pint-size equines.  Laymen call them ponies, but true ponies are about five-feet high, while minis are about three-feet.  This is hard to believe, but the fierce Comanche warriors, whose height averaged 5-feet or less, terrorized the Great Plains on the backs of ponies; but we digress!
After retiring from sheep-busting, at age six, Lealond tried munchkin calves and horses, and decided he liked riding a bucking mini best.
"I took my first bareback mini ride three years ago, and it was fun," he said.
Right off the bat he took second place at Circle T Arena in Hamilton, Texas, near Granbury.  After that win, his parents traded in the family sheep for Nellie, a mini-horse with shaggy russet potato-skin colored fur and a dark tail and mane.  She doesn't buck much these days.
"Lelo taught her to tolerate a saddle and rider, so she's his pet now," Jimmy said.
Rodeo cowboys don't bring their own animals to the contests. Stock companies provide animals and who rides what is the luck of the draw.  Rodeo animals are not trained to buck and cruelty is forbidden.  A pair of judges stand on opposite sides of the arena to score the animal's and cowboy's performances separately.
Rodeo animals live on ranches, but– other than feeding time– they aren't given unnecessary human attention or coddling.  This helps them retain the unbroken range characteristics prized in the arena.  In addition to herding domesticated beasts, cowboys of yesteryear acquired wild stock by "wrassling," roping and saddle-breaking wild animals.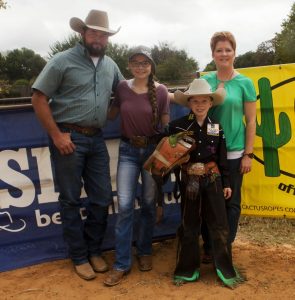 Lealond, a lanky 9-year-old with fair skin and light reddish hair, looks every inch the well-groomed, long-legged cowboy in boots, spurs, jeans, cotton shirt and cream-colored 10-gallon hat.
Then there's the riding gear: jazzy thick leather chaps and gloves, a protective vest, a strapped on "headrest" device– to prevent whiplash injuries– and a safety helmet.
"The helmet is heavy to wear," he said, "I'd rather not use it."
Once, right out of the chute he became airborne; and, at some point in the fracas, a small hoof grazed the side of his head.  His mother said they thought that was probably it for the weekend, but the next day Lelo jumped out of bed ready for another go.
The gallant young gentleman– who is completely at home offering a handshake to new people– these days averages 52 rodeos a year.
In the Pee-Wee Division (ages nine to 13), he is among the youngest and, often, smallest cowboy.  The goal of bronc riding is to hang on– one handed– for a wild six-seconds.  The question comes to mind, "Hang on to what?"  Because, in the case of bareback events, there's no saddle.
One supposes that in the 1860s cowboys gripped their animals' manes.
Today's stock gets strapped into a leather belt with an honest-to-goodness, seriously heavy duty suitcase-looking handle.  One handed?  Yes, siree; a rule of the sport.  Touching the animal with your free hand means disqualification.
The stereotypical image of the bronco or bull buster's wild waving free arm is no accident, because it pushes up his or her score.  Lelo's trick is to pretend he's carrying a big pizza tray with his free hand.  His mom said he charges out of the chute, while he and Dad shout together: "Pizza man!  Pizza man!"  It works.
So, what's the best thing about being in the rodeo arena?  Without a moment of hesitation Lelo said, "All the cheering!"
A second big thrill was getting to ride in the "big guys'" arena in the Days of '47 Rodeo.  Pee-Wee events usually have a separate venue.
"That rodeo," Jimmy explained, "is the equivalent of the Olympics."
Deborah added, "Before an audience of 10,000, he won first place."
This year, he finished in second place in the Mini Bareback Riding World Championship, which qualified him for the Pee-Wee Division of the Junior National Finals Rodeo (NFR) in Las Vegas, Nev. in early December. The first place NFR winner is THE Undisputed World Champion.
Lealond has a stash of BIG silver belt buckles from Montana Silversmiths that prove his history as a champion.  Next month, he's hoping to add the "mother" of all gleaming silver rodeo buckles to his collection.
So what does a nine-year-old cowboy do on Monday through Friday?
He goes to third grade at Hilltop Elementary in Argyle.  Recess and choir are his favorite classes.  He takes after Mom who sings the national anthem at rodeos.  Tacos are his favorite food; and, as far as he's concerned, no treat beats a Popsicle.
He likes to play baseball and basketball; and, don't forget fishing at Lake Ray Roberts.
"I caught a 13-pound striper once," he said. "We ate the whole thing!"
On Sundays, he and his family attend the Denton County Cowboy Church.
"Two or three times-a-week, he puts on his safety gear and for 30-minutes, practices correct movements on a 'spur board;' a big stack of wood planks covered with hide, specially rigged for him beside the patio," his father said.  "Without a saddle, bareback riders hold the rigging handle and basically lay back, with their spurs near the animal's shoulders. This– and keeping one hand in the air– take presence of mind, which comes from plenty of practice.  Exercising in this position also helps strengthen their core (abdominal muscles)."
What does his family do between rodeos?
"We have two children with extracurricular activities, so sometimes we split up to cover all the action," Jimmy said.
Lelo's sister, Neva, is an Argyle High School volleyball player and a championship archer.
"She plays select volleyball at the University of North Texas, so we're all on the road a lot," Deborah added.
To that end, Lelo has acquired local sponsors who help defray the costs of his rodeo participation.  These include Diamond D Leather, Dr. Don Camillo (a Denton anesthetist), Argyle Family Chiropractic, Diamond O Fragrance, Resistol Hats, Stony Ponies (a rodeo stock provisioner), HB Hunting Products, Allen & Allen Cattle Co., Aunt Bee, Donald Camillo C.R.N.A. Anesthesia Services, Major League Roofing and JHL Fencing & Welding (the Henderson family's owned and operated business).
Lelo is active in the nonprofit organization Texas Cowboys Against Cancer, that provides funds to families who have a loved one battling cancer. He promotes the cause and participates in benefit events.
A GoFundMe page has been set up to help Lealond's family offset some of the costs associated with his trip to Las Vegas at www.gofundme.com/our-local-cowboy.